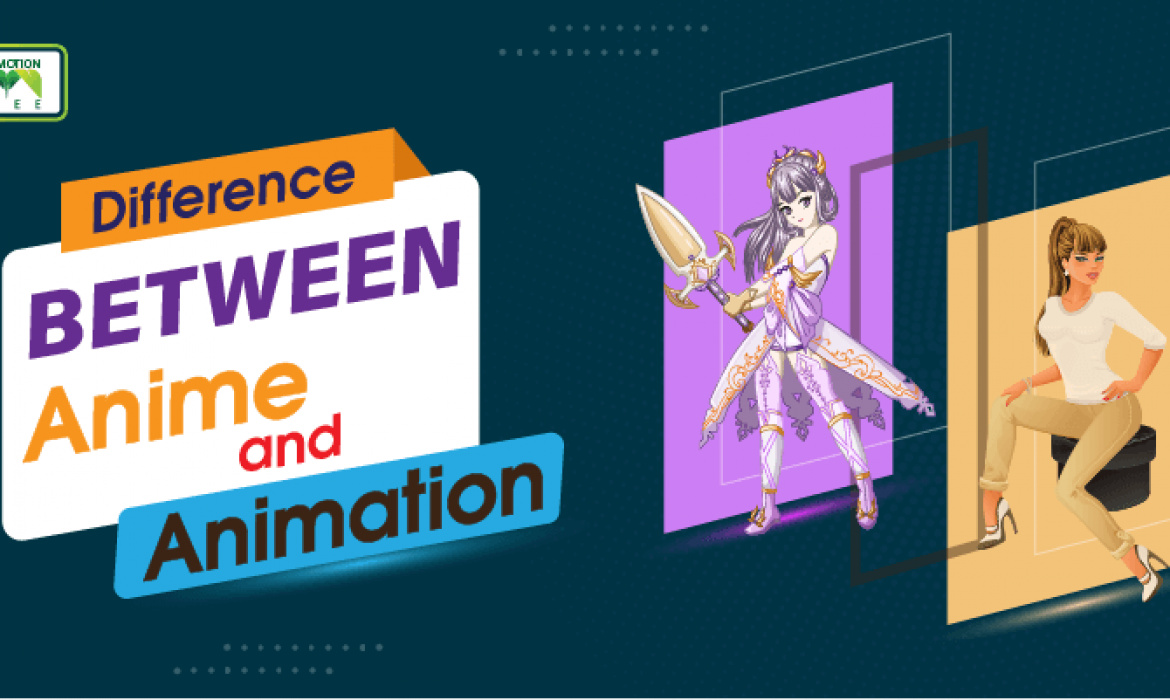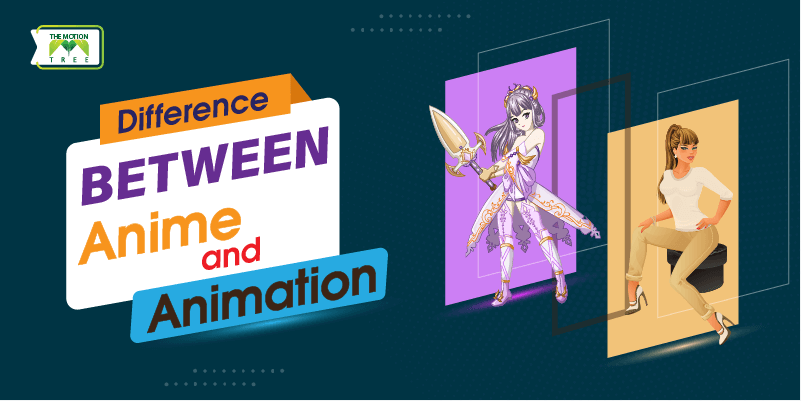 Anime, animation or cartoon no matter which name you take, a large part of our childhood had a great experience because of them. At that time we never asked what is the difference between anime and animation or even cartoons. We would just enjoy watching them and wait eagerly for each episode and part.
Are anime, animation, and cartoons different? The answer is yes and no. Wait, don't get confused. In this editorial, we will talk about the difference between anime and animation. But first, we must know what anime and animation actually are. So without further ado, let's jump to our main segment.
In simple words. Animation is a process using which you can add motion to your 2d or 3D models and characters. The idea works like a set of static images with subtle movement in each frame that adds up and makes a motion picture. 
In the early days, animation was created by hand-painted models but those days are gone. With today's advanced technology animators can create stunning dynamic animation movies. Making 3D animation has become easy and less time-consuming. Now anyone can learn how to make 3D animations and know-how animation works from the internet.
Animation is also broadly known as cartoon and when we see the animation, we know it means non japanese style cartoon. Now that we are mentioning Japanese style cartoons, let's know about the anime.
Anime is a form of an animation originally generated from japan by integrating Japanese style for animation. The graphics of anime are more vibrant than normal western cartoons. This history of anime starts in the 1960s but became popular later when Osamu Tezuka began working.
By combining strong visual effects and great detail of art, anime is created by focusing on the characters. Creators work painstakingly to build a character. Anime characters have some distinctive features such as large eyes, long bodies, shiny skin, and reflective highlights. In anime content and characters matter a lot which is not the same case for animations.
Anime is created for audiences with different levels of age and it can even feature violence for adults. The most differentiable thing in anime and animation is in the motion. Anime possesses less motion than animations or cartoons.
The Difference Between Anime and Animation
Now that we know what anime and animation are, it's time to know the difference between anime and animation or cartoons. We know that anime is a part of animation but the animation is not a part of anime. As anime is a Japanese style and an animation is a western form there are some differences to talk about.
A difference in detailing
There will be a distinctive difference in detail. In animations, creators focus on characters and their motions. But in anime, the focus is mostly on the characters, background, and dramatic settings.
As animation meaning is giving motions animators use an array of static images with subtle changes from each other. So when they add up the images the motion comes out seamless and smooth looking in animation movies. On the other hand, the illusion of movement in anime is not subtle nor smooth but it isn't poor either. 
The movement in anime is repetitive and less. So when a character talks, you will see mostly a few moving hairs and a slight mouth movement. There will rarely be some elaboration of the facial expression like the animation does.
This might be the biggest and the most transparent difference between anime and animation that you can notice clearly. The content style of animation movies is mostly western and some are worldwide. On the other hand, anime flourishes Japanese culture. 
You can pick any anime you want, you will see influences of Japanese art, history, and culture. The content style of anime is mostly dark-themed and appropriate for adults but animation movies are for kids. There are some animated movies for adults but they are not as dark as anime.
The difference in Audience
As anime movies and series are mostly dark-themed and contain controversial scenes, they are more adult-oriented. On the other end, animation movies are light-hearted content and they rarely contain any controversial content as well. And so animated movies are mostly watchable for kids. So the difference in the audience for anime and animation is also noticeable.
The difference is key ingredients
Lastly, both anime and animation have different key ingredients as a whole. On one side (anime), you will see minimal motion and movement but the jaw-dropping story, character building, and drama to experience. On another side (Animation), you will experience realistic motions, high-resolution imagery, 
the flawless transition between frames, and a detailed environment. Animation movies have slightly more reachability because of their language. Though the key ingredients are different in both of them, they are popular among viewers because of their different styles.
What Japanese Anime does better than Western Animation
The age-old argument about 'who'd make it better' continues for years. Die-hard anime fans are convinced that Japanese anime is the superior art format. Some of the fans who prefer western animations think otherwise. Each style has its advantages and flaws, leaving it to private preference. 
From the content style to motion everything is different and so you can't claim that japanese style animation is better than western animation.
So what is the difference between anime and animation? Well, the debate on the difference between anime and animation or cartoons can feel like a never-ending process. But if you read this article you might have understood the concept of anime and animation. Despite the clear differences between them, people love watching both of them. Anime is not a cartoon and they have controversial scenes as well. Still, the popularity is skyrocketing every day.

I am Katja Miyatovich, a 3D artist with almost 5 years of experience in the industry. Currently, I live in New York, USA, and work in a full-scale 3D studio. In addition, I own a separate team working on several different creative projects. Plus, sharing in-depth knowledge about 3D is one of my passions.