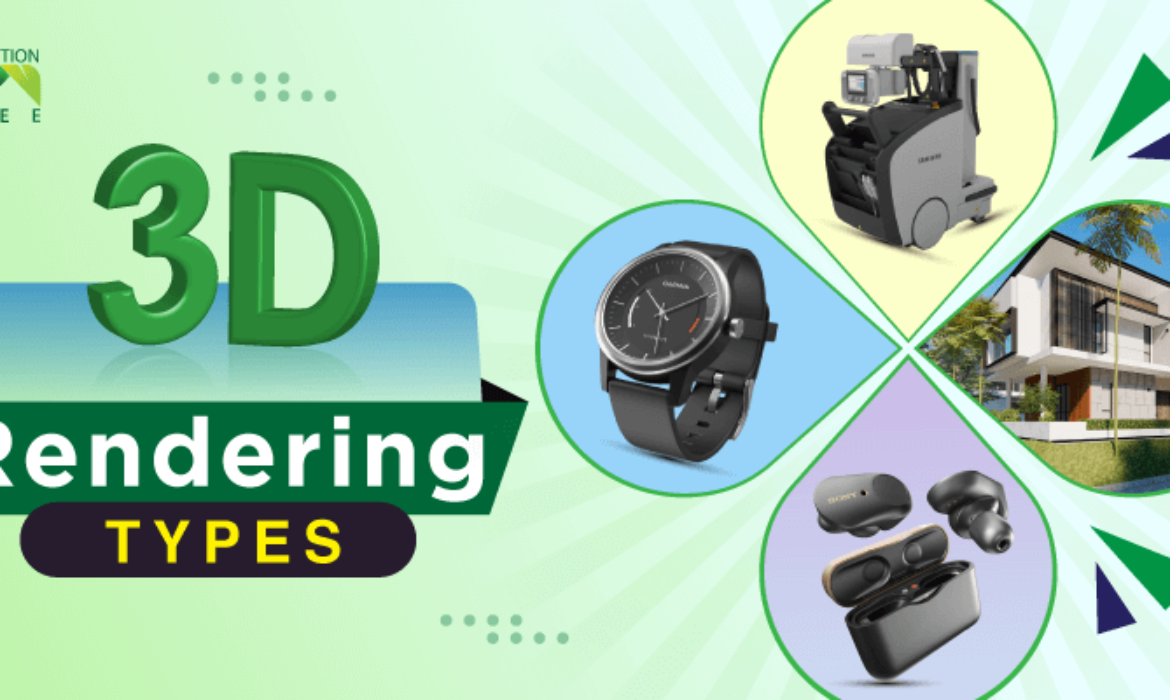 In the captivating world of 3D design and visualization, 3D rendering is a quite competitive business turf with endless potentialities. In the business field like architecture, or online business, it paved the way to go ahead of the competition. 
Moreover, to unlock creativity and gain remarkable results, there is an array of 3D rendering types. For instance, Real-Time rendering or Non-real-time rendering, helping businesses to impress their viewers at any level.
In today's write-up, we'll explore the types of the rendering in detail, techniques used for rendering, and types of services that enable businesses to breathe life into their visions. So, read on.
To put it all simply, 3D rendering is the computer-generalized process that can create stunning photorealistic or non-photorealistic 2D images from three-dimensional data, namely models or scenes. 
In this process, the specialized rendering software analyzes all the data that are associated with the 3D scene or model for instance color, material, or texture, and converts it into 2D images. Thus it is the final step of 3D visualization.
Basic Types Of 3D Rendering
In recent times when technologies are growing faster and visuals becoming a domain in every field, 3D rendering is like a captivating world where creativity knows no bounds. 
As for rendering, there are some basic types of it, for instance, real-time rendering and non-real time rendering. However, let's dig deeper
#1. Real-Time Or Photorealistic Rendering
It is the type of rendering that you mostly see in interactive media like games or stimulation. 
The main goal or the focus of the real-time rendering is to display as much detailed information as possible within a fraction of a second the eye can process. 
In the type of real-time or photorealistic rendering, a high degree of photorealism is achieved in a maximum acceptable rendering speed. As a consequence, the results are breathtaking. 
The final image is presented that does not necessarily exist in the real world but is more than close enough for the human eye to tolerate.
#2. Non-Real Time Or Offline Pre-Rendering
Non-real time or offline pre-rendering is the type of rendering that is generally too slow to be photorealistic. It can outline an object or diagram drawn, for instance cartoon style images, with a more two-dimensional or traditional look. 
Here the results may not be as interactive as the real-time rendering, but often have much better spectacle in terms of appearance. That's because this type of rendering can work with more complex geometry.
#3. Reflections And Shading Rendering
Although reflection and shading are used to describe the surface appearance, it is extensively studied under the context of rendering. 
Shading can be divided into two different techniques. Generally, both techniques are studied independently. For instance
Surface Shading: Mostly used for artistic rendering and non-real-time photorealistic rendering.
Types Of 3D Rendering Services
Across various industries, ranging from architecture and video games to the world of cinema, 3D rendering stands as an immensely utilized technology.
Depending on it, the rendering service providers offer a number of rendering services according to the specific needs of the businesses. Let's check that out.
#1. Architectural Rendering
Architectural rendering finds extensive utility among architects, serving as a vital tool throughout nearly every phase of the planning process.
The service helps the architects to spot potential problems early, solve them, or easily make changes. There are also several types of architectural 3D rendering. For instance- 
Interior design

Exterior design 

Residential Rendering

Office Space 3D Visualization

Hospitality 3D Visualization

Retail Space Rendering

CGI for Industrial Projects

Rendering for Public Architecture and Amenities
Product rendering is an efficient and cheap way to explore the concept of the product even before making expenses to produce the product. 
The renders help the clients to sell the idea to the investors smoothly, solving the problems before wasting money or materials after the production.
#3. Rendering For Medicine
3D rendering has tremendous advantages in the field of medicine too. Professionals in the medical field can use it to have high-quality images to identify abnormalities or growth. 
The rendering service for this field uses the right kind of software with analytical tools to provide cutting edge results to medical professionals. The service is also used in terms of precision-based equipment design.
#4. 3D Rendering For Fashion Technology
It is another factor where the 3D rendering shines brightly. Here the service serves a very important and specific purpose. 
Fashion designers utilize the service for testing different fabrics, colors, or shapes and against the other parameters. Thus the designers can predict how the product will turn out. 
Main Types Of 3D Rendering Techniques
No matter whether it is for animated or photorealistic images, 3D rendering requires different types of techniques. In this subsection let's go through the techniques of it to comprehend all about the rendering.
It is one of the traditional techniques for rendering. The essence of this technique is to offer real-time rendering depending on the polygon basis of a 3D model. 
When you're short of time, rendering is the best solution as it avoids the pixel-by-pixel process which requires more time.
In other terms, it can be called depth buffering. The technique is used to assist the computer in determining whether a scene or object will be out of view or will be visible.
In this rendering technique, the focus is generally on the surface color, texture, and details of the image that is to be rendered
It is one of the easiest techniques of the rendering process. With the use of reflection and refraction modification, this technique creates vibrant, lifelike light colors that are inspired by the scene's surroundings.
Ray tracing technique works very smoothly focusing on every small detail. The shades offer a very realistic effect in the rendered image.
If you think your project doesn't need minute details of the object, then you can go for this technique. 
In this context, the ray casting technique leverages the object's geometry, meticulously tracing it either line by line or pixel by pixel, to conjure up the breathtaking 3D illusion within the image.
The goal of the technique is to bring a convincing and natural impact to the 3D model.
It is a rendering technique that makes use of illumination from both the lighting source and objects that reflect light from the surrounding scene. 
As the final result, the rendering looks very photorealistic. The results of the technique are very accurate, concerning every detail of the surface. It also allows for diffuse interreflection.
#7. Perspective Projection
It is a software-based project where the distant objects appear smaller than those closer to the viewer's eye. The rendering is created on perspective projection.
#8. Resolution Optimization
The rendering technique counts the pixels per inch. The more pixels per inch, the more sharper and precise the object in the final image and vice versa.
Applications Of 3D Rendering
Needless to say, 3D rendering is most popular in numerous industries as it is time-efficient and cost-effective and allows you to see your idea even before it is manufactured and built. Here is a list of some popular fields where it is vastly used. 
Architecture structure rendering 

Design 

CGI in Film

Real estate 

Product prototyping

Advertising and marketing 

Simulations of the environment

Video games

Safety Instruction

Entertainment 

Imaging in Medicine

Engineering

Virtual Reality

I am Katja Miyatovich, a 3D artist with almost 5 years of experience in the industry. Currently, I live in New York, USA, and work in a full-scale 3D studio. In addition, I own a separate team working on several different creative projects. Plus, sharing in-depth knowledge about 3D is one of my passions.