Turn your imagination into a reality with our ultra-defining 3D animation services and marvel at the vibrant details. Our professional animators provide perfect motion and incredible 3D designs that help your animation look more radiant and alluring. You get
True Tone Color For Your Animation

Vibrant and Captivating Motions

A seamless fusion of 3D Designs and Animations
Category of 3D Animation Services We Offer
Creating 3D animations requires a perfect combination of technical skills and creativity. As a 3D animation service providing company we certainly offer both of these along with experience in working on the different categories of animation services.
3D Product Animation Services
Creating 3D product designs will boost your sales but if you go for a little more advanced technique to present your products then it will give you an even better result. 3D product animation services give the product motion and so consumers get more clear view than 2d still product image.
3D Character Animation Services
3D characters help us to build amazing games or present any creative stories from the writer's imaginations. Giving smooth motion to any 3D character requires higher accuracy and a sense of how motion works best.
Why Do We Have The Best 3D Animation Services Around!
With years of experience and professional skills in motion graphics, we provide high-quality 3D animations that can become your business's center of attraction. As a professional 3D animation service provider we help you by empowering your vision. And so now you can have boundless ideas to turn them into reality. We offer exclusive attention to detail in animation services and the fastest turnaround time at an affordable rate.
Don't hold your queries. Get in touch with us, share your queries, and request your free quote today. Our expert support team will respond to you with a customized quote.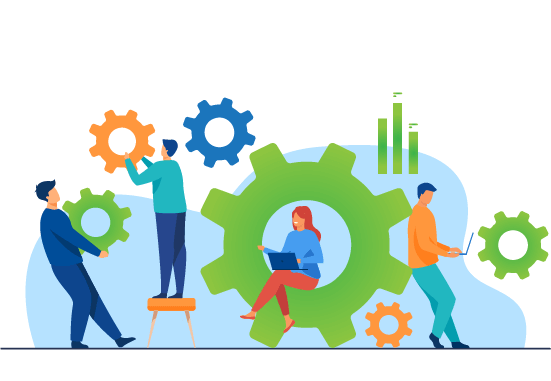 What Are The Stages Of 3D Animation?
Creating high quality 3D animation takes a lot of work behind the final output. It's a process that as an animator you can't skip for sure. In pursuit of good quality, we follow every step that goes in the backend of making a perfect 3D animation for our clients.
Pre-planning
Creating a good quality animation heavily depends on the pre planning and planning phase. From how the subject will look to where and what animation it will, everything should have proper planning before going into making. With years of experience and expertise in 3D animation, we plan every step of our 3D animation service.
Layout Design
Here all the major poses that the subject will do in the final animation are determined and visualized. This phase works as a script for the 3D animation process. Everything you want to do in your animation will be shown in this phase as a scratch. Along with design experts also mark very poses frame by frame of the subject in this phase.
Proper lighting
Proper lighting enhances the animation more than anything and while creating animations you can add virtual light sources and make the lighting more natural. According to the scene, our experts add virtual light and create proper natural lighting on the scene.
Final rendering
It's the final phase and when the experts are done with creating 3D models and texturing the scene they start the rendering process right away.