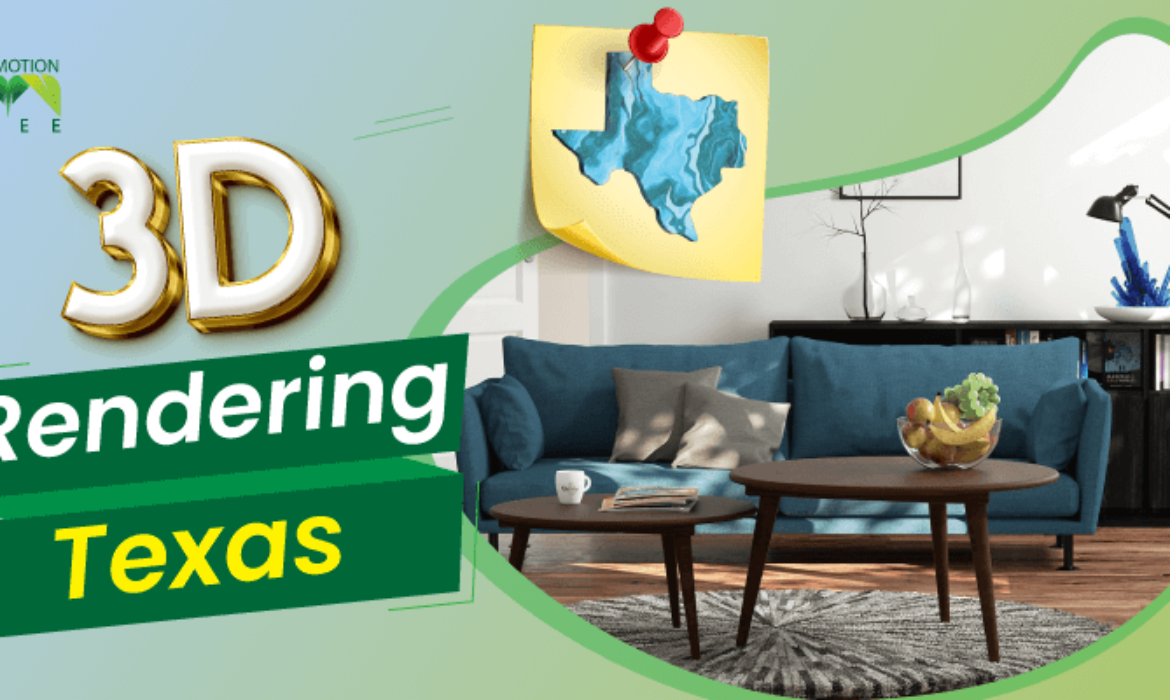 The supremacy of 3D rendering in Texas is always a domain in the world of rendering services. It just needs to be capitalized thoroughly. Texas is on the cutting edge of innovation in all fields like design, architecture, products, and virtual reality. 
Now you just don't need to imagine the possibilities in your business. With the help of 3D rendering Texas, you can see them thoroughly and bring them to life. Due to the technological precision used for rendering in Texas, you can increase the conversion of your specific business field like never before. 
However, that's just a start! Let's delve deep into the matter making it all clear concerning 3D rendering centered in Texas. So, learn more if you want to get yours!
Generally, 3D rendering is the computer graphics process. It refers to the procedure of creating a 2D image or animation of a 3D model generated by specialized 3D rendering computer software. 
Here, the process is involved in creating the models of the product or object, then texturing it, and adding lighting. 
Typically, 3D rendering is the final step of the 3D visualization process that converts the 3D model of the product and object to 2D images with the help of computer software.
How 3D Rendering Can Boost Your Business in Texas?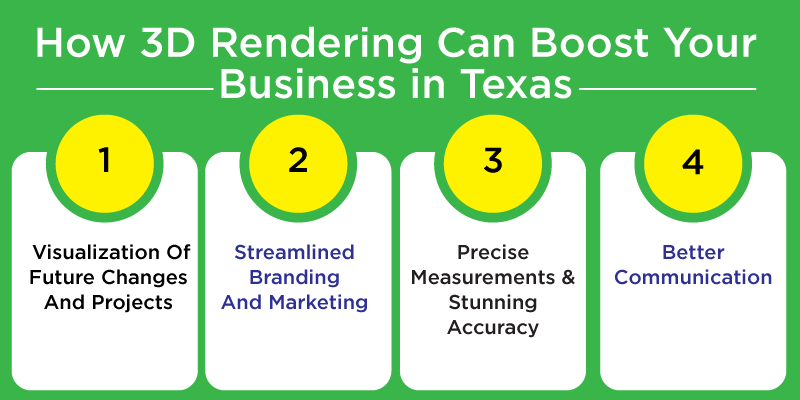 Quality is the main focus of the 3D rendering services anywhere in Texas, not only the features. There are many more benefits that you can avail of with the rendering service from Texas. 
What benefits do the rendering services offer you that you can avail from here, let's get to know some among the many.  
#1. Visualization Of Future Changes And Projects 
Choosing the 3D rendering services that Texas offers you, is the perfect opportunity for projects that are in the stage of planning. 
Builders, marketers, architects, and other professionals use 3D rendering vastly to visualize their future projects and changes without investing in props, travel, or interior designers.  
#2. Streamlined Branding And Marketing 
One of the most significant benefits of 3D rendering in Texas is that it can be used for streamlined branding and marketing. 
You can maintain the branding and marketing strategies of your business consistently over time where you just need to invest a little, leading to prohibitive costs. 
#3. Precise Measurements And Stunning Accuracy 
Rendering services in Texas offer stunning accuracy and precise measurement in every project. You can get the precision that is almost impossible from traditional photography or for digital photographers. 
#4. Better Communication 
It is another factor where the 3D rendering in Texas shines brightly. Here, you can have clear communication with the 3D renders about what you want to visualize and get back the results in a unified way, for sure.
Different Types Of 3D Rendering Services You Can Get From Texas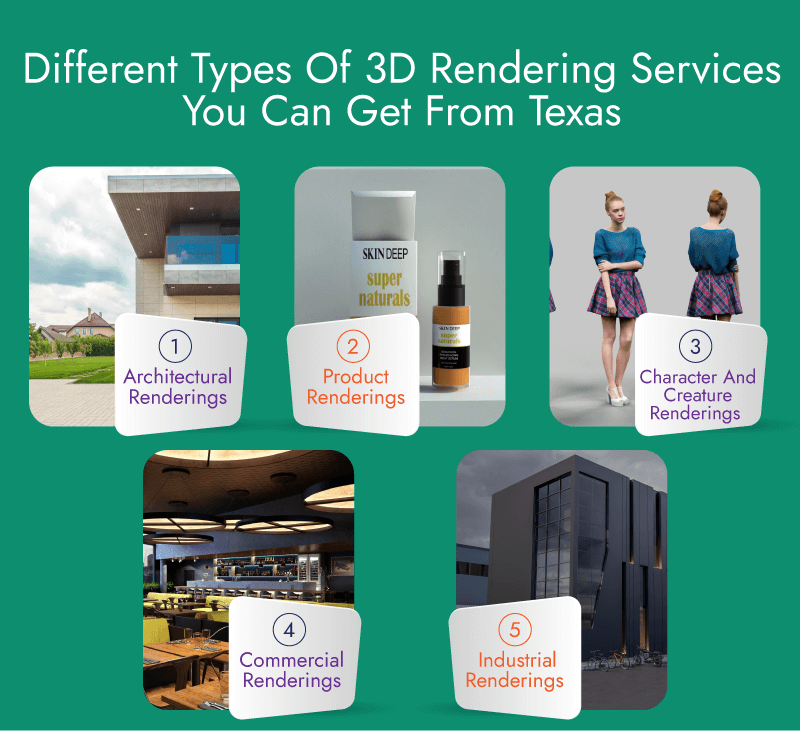 In Texas, the 3D rendering specialty provides clients with breathtaking rendering and visualizations of their ideas and thoughts, bringing them to virtual life. 
Now, let's explore the vastly different types of 3D rendering that encompass various industries.
Architectural Renderings
The architecture rendering service in Texas has an unwavering dedication to offering the transformative power of architectural rendering. 
In this field of rendering, there are a number of services that the service provider offers. For instance, 
Exterior design

Interior design

3D floor planning 

Aerial renderings

Site and master plan renderings 

Conceptual rendering

Architectural walkthrough 

Virtual reality rendering

Augmented reality renderings, and 

Renovation renderings
Product Renderings
Now let's come to another vast application of 3D visualization and renderings- Product rendering. 
Generally, at the core of product rendering, it is to highlight the features, color, texture, and materials that allow the manufacturer to access the visual appeal of the products. 
Product rendering helps the business to represent the design of their product in the most photorealistic and compelling manner. And here in Texas, you can get the service most accurately and uniquely. 
Character And Creature Renderings 
In the world of gaming, animation, and visual effects, the character and the creature rendering are likely to have a pivotal role. 
Through these rendering techniques used in Texas, the render artists can create digital characters of humans, anthropomorphic beings, and fantastic creatures and bring them to life.
Commercial Renderings
In modern 3D visualization, commercial renderings are possibly the most promising and the largest niche. 
The 3D artists of Texas assist the clients in coming up with such projects and make them as realistic as possible through the use of digital software. 
The clients can present the ready-made project to the stakeholders even before the manufacturing process starts, for any-
commercial projects concerning business centers, 

skyscrapers, 

shopping malls, 

restaurants, 

theaters, 

schools, 

or any other construction,   
Industrial Renderings 
Industrial 3D rendering and 3D visualization are one the most demanding among the professionals in the field of construction and architecture. In Texas, you can get the most professional industrial rendering services. 
The rendering allows the manufacturers to show the benefits and the technologies of their product even before the product has been developed. 
So, of course, quality images help businesses improve their conversions and can become a powerful tool for advertising, marketing, presentation, and many more.
Cost Of 3D Rendering And Pricing Strategies From Texas
In today's fast-paced world, where the computer has become faster and software is smarter, ultimately, 3D rendering services have become cheaper. With the help of rendering services in Texas, you let your pocket breathe freely. 
However, you should keep in mind that the cost of rendering may vary anywhere in Texas depending on a number of factors. 
For instance, you can say, the complexity of the project, used software and hardware for the project, and the required level of detail. 
On average, the render service provider may charge somewhere between $500- $1500 anywhere in Texas for 3D rendering. For more realistic and complex renderings, the cost can go upward of $10,000 or more. 
It is also worth noting that the service firms of 3D rendering of the city sometimes include the service as a part of larger projects, which can affect the pricing overall.
Challenges You May Face From Texas Associated With 3D Rendering
Unlike the much more beneficial and cost-effective services from the Texas 3D renders, there are some potential challenges that you face associated with the 3D rendering. Although that's not a big deal, it's better to know that beforehand. 
Lack of collaboration and communication

: This is one of the primary challenges. Inadequate communication between the client and the render may lead to discrepancies in the final deliverables.

Issues with quality control

: For a successful 3D rendering project, maintaining a consistent quality standard can be a little challenging while outsourcing in Texas. 

Time zone and cultural differences

: If you're outsourcing 3D rendering services from Texas with a different time zone and culture, it can probably lead to misunderstanding and communication delays. 

Security and data protection

: While outsourcing in Texas, security and data protection may be a little concerning when you are taking the service for the first time.  
Intellectual property concerns: Outsourcing 3D rendering services in Texas, and protecting property rights may also be major concerns. That's why you need to choose the company here that ensures proper agreements. 
What Is The Future Of 3D Rendering Services In Texas?
You know, in the future, the 3D rendering technology in Texas is highly expected to make a continuous improvement, making the process more accurate and realistic. 
Hopefully, it will create new possibilities for creation, visualization, and experiences. 
Most surprisingly, the technology is already developing and improving so fast in Texas. 
That's why, we can hope that 3D rendering will become the most widely and dependable tool in the upcoming days not only in the field of architecture but almost in all fields like films, games, animations, or movies. 
It will lead to the extensive use of 3D rendering with immersive user experiences in Texas. 
So, all in all, you can say, the future of 3D rendering service in Texas is way more promising, assuring AI integration, real-time performance, realism, cost, and efficiency. 
In the future, 3D rendering in Texas may surely have a profound improvement in all fields that depend on 3D graphics.

I am Katja Miyatovich, a 3D artist with almost 5 years of experience in the industry. Currently, I live in New York, USA, and work in a full-scale 3D studio. In addition, I own a separate team working on several different creative projects. Plus, sharing in-depth knowledge about 3D is one of my passions.