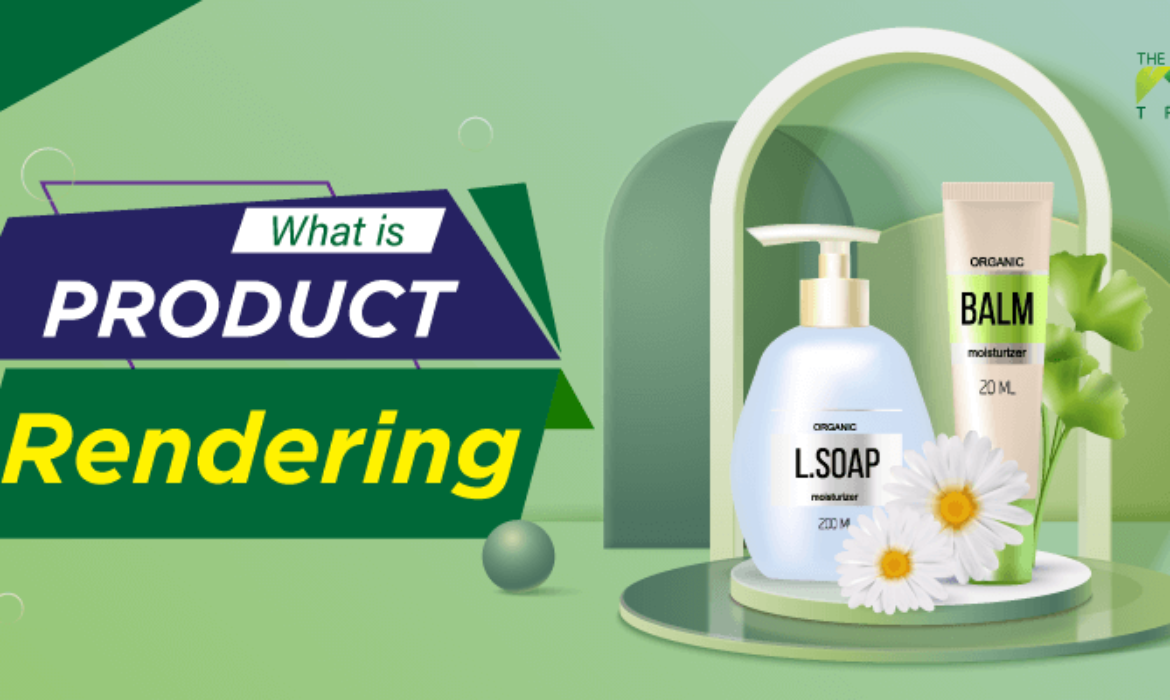 Generally speaking, product rendering is the process of creating photorealistic images that are produced using 3D software by CG artists. Through this technique, product designers work on 3D models where they try different colors, designs, or materials.
We believe that more is required to clear the concept. We are here to assist you in covering all the queries of product rendering.  You will also learn its role in business expansion. So, here we go!
To reiterate, the product rendering refers to a process of creating a photorealistic image or video of an object. 
Manufacturers and product designers must experiment with a variety of designs and concepts when developing new products, especially when they need frequent prototyping. 
Since making prototypes is time-consuming and even costly, rendering is the best way to try different alternatives. 
Through the method, virtually computer-generated images are made where one can display a single product in detail from different angles. 
Highly detailed 2D or 3D images are usually made by the GC artists using rendering specialized software. 
So, overall, product rendering is a way to depict products that may not even exist in the real world!
What Is 3D Rendering Used For?
The most interesting technique of representation is 3D product rendering. It is nothing more than a way to show an object from different angles. Here is why 3D rendering has become popular.
Advertising 
One of the main sectors where 3d rendering is vastly used is advertising. 
You will be surprised to know that about 80% of commercial product images and videos are created by using 3d rendering. 
For advertising purposes, 3d rendering makes the product image and video fantastic and easy to catch attention. 
Images on the magazine or the billboards are proof of it! 
Marketing 
Now let's highlight the second big reason why you may need product rendering. It is for marketing purposes! 
You can use the 3d product rendering to get a stunning marketing image to draw the attention of new customers, and increase sales as well. 
Design 
3D rendering is also a great tool for designing purposes also. 
It has opened a paved path for designers to expose their new designing ideas and concepts in an attractive way.
Presentation 
Say you are about to introduce a product to investors or customers. 
So, you may need 3d product rendering for an unforgettable and impressive presentation. 
Through this great process, success is guaranteed with technical know-how in many cases!
Types Of Product Rendering Are Available For Your Consideration?
Generally, there are mainly two types of product rendering. One is white space visualization and the other is contextual visualization. 
More than that, 3D render images can also be produced by illustrative rendering and interactive rendering. 
#1- White Space Visualization 
In this technique, product images are manifested on a white background. It is mostly used for product development. 
White space visualization is a great choice as it showcases the product without any distractions in the background. 
#2- Contextual Visualization 
The designers use contextual visualization to show how a product will sit in a real-world setting. 
For instance, it is likely to predict how furniture may look in the office space or in a house. 
#3- Illustrative Rendering 
Unlike other product rendering techniques, illustrative rendering is a little different. 
Rather than making realistic images, it uses fantastical or abstraction creating depictions of a material. 
You may see the technique in advertising campaigns. 
#4- Interactive Rendering 
Interactive rendering is the technique where the rendering specialized software automatically updates the features of the 3D renders. 
The V-ray product rendering process often uses the technique. 
What Are The Advantages Of Product Rendering To Make A Difference?
Product rendering is considered to be the best substitute for the traditional photography technique. 
Why should it not be? Product rendering offers much more advantages than the traditional one. The benefits include the following. 
Create impressive images

Makes the design flexible and handy

Bring life to 3d product images 

Enhance the visual communication 

3D visualization for marketing images

It is like selling the product before produced 

Reduces the costs of design development 

Consumer testing is easy and effective 

Presentation to clients goes smoothly
So Why Do You Need Product Rendering For Your Business Expansion?
Product rendering creates eye-catching 3D images of the product, increasing customer satisfaction, resulting in chances for more sales. 
In online business, customer satisfaction is everything, and product rendering has a direct effect on it. 
That is because product rendering depicts the product and the customers get to know how the product will be when they get it. 
Not only that, they can also see what they are paying for. 
Moreover, we think most importantly, product rendering helps you to stand out from the crowd. 
Perfectly rendered images help to attract more customers and increase revenue. Besides, the technique can save you money in the long run.
How Much Is The Product Rendering Cost? Is it Costly?
Product rendering is much more costly than you usually have to pay for traditional photography. 
As estimated for a rough idea, a visualization studio that offers you high-quality product rendering images may demand about $50 to $550. 
In case you are looking for more advanced product rendering, you can expect to cost about $500 to $5000. 
Keep note that every product rendering studio will offer you different prices and packages for each project. 
For example, The Motion Tree offers you the best in all aspects including the cost. It is not just a hunch of words! You will know once you try the service!
Whether There Are Any Downsides Of The Product Rendering?
To be honest, the downsides are not that much to count seriously. Still, there are a few things that you should know so as not to leave any queries in your mind. 
#1- Too Good To Be True 
Have you ever thought being too good can also be a problem for a factor? For product rendering, it is true in some cases! 
No doubt that product rendering is very good. But sometimes, being too good can also create a false sense of the viability of the product. 
#2- Too Easy Revisions 
You know, product rendering has the ability of inexpensive and unlimited revisions. 
But the problem is that this ability of the product rendering can lead to the product never getting out of the hand of the engineer. 
If it becomes too easy to make changes, it can be difficult to take the product to the next phase.

I am Katja Miyatovich, a 3D artist with almost 5 years of experience in the industry. Currently, I live in New York, USA, and work in a full-scale 3D studio. In addition, I own a separate team working on several different creative projects. Plus, sharing in-depth knowledge about 3D is one of my passions.