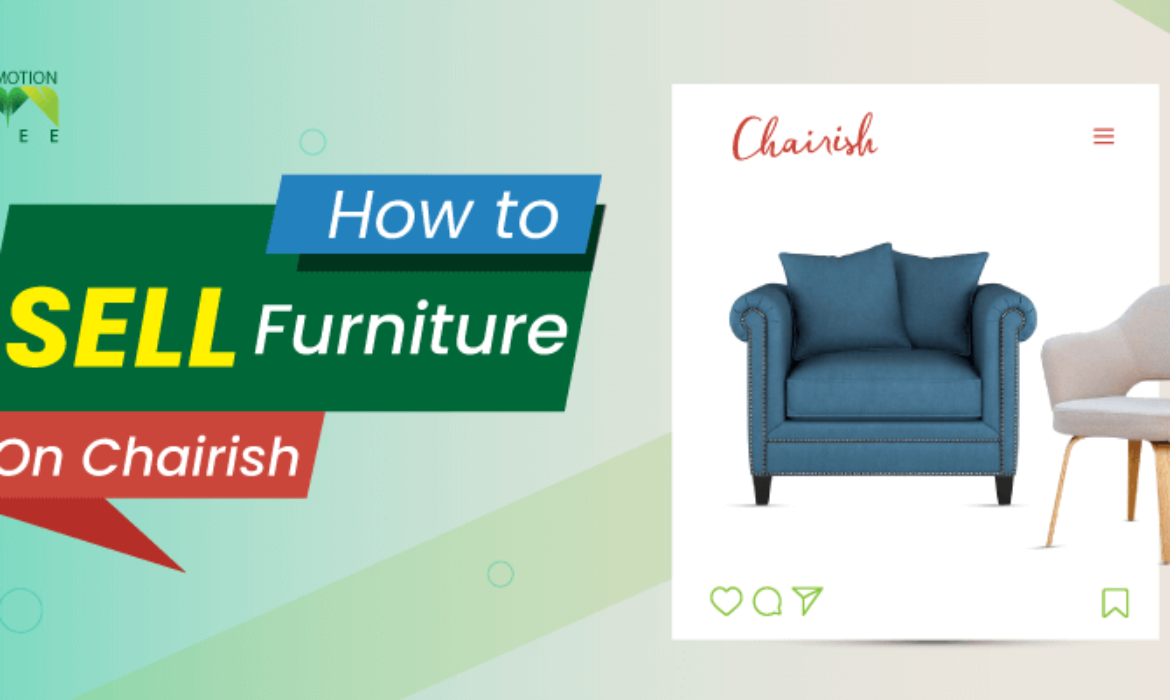 Selling furniture doesn't need to be laboring anymore, thanks to Chairish, an online furniture-selling platform. It's as easy as opening an account, listing out the furniture, setting up pricing, and delivery, and that's pretty much it.
Sounds easy, right? But to make things even easier for you, we go through a 5 steps process on how to sell furniture on Chairish. So, don't waste any time and get into the process to start making money off your furniture.
You don't need a whole lot of things to become a seller on Chairish. For the basic requirements, all you will need is an email and some furniture to sell, and that's pretty much it.
Of course, if you want to become a wholesale seller on Chairish, you must fill out a form. In the form, apart from your email, you need to include information about your company, and you need to have a company website.
Seller Plans On Chairish 
There are 4 different plans you get on Chairish, along with a wholesaler plan. Let's look at the 4 basic plans and each of their perks. 
Plan

Prerequisite

Perks

Membership fee

Consignor

1-9 active listings

Reliable buyers

Handy shipping

Proper payments

Free

Professional

10+ active listings

Same as Consignor

Free

Plus

10+ active listings and membership fee

Every professional benefits

Low commission

Private sales

Business review every 3 months

Monthly $30 listing credit

Curation tool

Faster payments upon eligibility

$99 per month

Elite

Only invitational

Similar to Plus benefits

Expedited listings

Customer support

Faster payments for everyone

$149 per month
The consignor plan is where every seller starts their journey in Chairish. It starts right after you create an account on the site and open your shop. Chairish upgrades every seller to the professional plan once they have 10 active listings.
How To Calculate The Chairish Commission Fee?
For every sale on Chairish, there is a commission that the site deducts from the sale price of your furniture.
The below table shows you the commission rates for the different plans on Chairish that we just about above – 
Plans

Commission rates

Consignor

40%

Professional

22% for used products and all pillows

30% on all new products

Plus

20% tiered commission on used products and all pillows

30% on all new products

Elite

Same as Plus plans
Now, coming to the calculation of Chairish commission fees, you will need to consider your plan first. Assuming you are on the consignor plan, the selling price and commission calculation will be as follows.
Let's say you want to sell an item of furniture worth $1000. In that case, Chairish will charge a 40% commission on your furniture. The commission will come to about $400. This means you will make about $600 on your furniture with the consignor plan on Chairish.
If all this sounds too difficult, you can check out the Chairish fee calculator to calculate the fee, profit, margin, and return based on tax rates.
5 Steps To Sell Furniture On Chairish
Enough with all the math and calculation; now, let's start selling immediately. Follow the 5 steps below, and you should have smooth sailing with the selling process on Chairish –
Step 1: Create an account and set up the profile
The first and easiest thing to do is to create an account on Chairish to begin your journey as a seller. You don't need much to create an account; a valid email address should be enough.
Before listing your products, setting up your profile is better to make it more like a shop. To do that, log in to your account on Chairish and click the profile icon on the top right. From there, choose my shop, then Shop settings, and set up your shop accordingly.
Step 2: Create a product listing
After setting up your shop, you can start listing your products. To create a product listing, click on your profile icon. From there, click on the option to sell an item. That takes you to a window where you will create a product listing.
Simply fill out the requirements such as listing name, product description photos, details, dimensions, etc. Remember that the listing process also includes pricing, shipping, and inventory information. It's pretty straightforward to follow through.
After filling in all the information, the curators of Chairish review the listing and then approve them with some editing. The editing mostly focuses on the image and SEO of your listing. Within 3 to 5 days, the product goes into listing.
Step 3: Pricing your products
Pricing your products correctly is very crucial to succeed in Chairish. You can't get customers with absurd pricing of your product. The best way to price your product on Chairish is to follow their website's pink book pricing guide.
With some idea of pricing the product, another helpful trick to get more customers through pricing is to have a make-an-offer feature. It allows the customers to make an offer on your product which you receive through an email.
Step 4: Decide on the shipping method
After pricing, you have to move on to the method of shipping your products. There are 5 different ways to set up your shipping method on the platform.
You can choose from in-home delivery, where professional shippers process and send the products within 3 to 7 days. If you have smaller items, you can always choose the UPS shipping method.
To have a pickup system for your delivery for local sales, you can always choose the local pickup options. It reduces the shipping cost by a lot. Or you can also choose local delivery to the local customers and drop off the item.
Lastly, you can set up the complete shipping process all by yourself. Chairish will have no involvement in this method of shipping.
Step 5: Set up your payment options
Lastly, to begin your journey as a seller, you have to set up your payment option, where you will be receiving the money from Chairish. There are two ways to receive money from Chairish.
One is using Paypal, the most popular choice for Chairish users. Or you can receive the money through a bank transfer. You can find all this on your shop's payment settings page. Chairish should send the money to your account within 3 to 5 days of a sale.
Tips For Selling Furniture On Chairish
Creating a shop and listing your products can't bring your desired success in Chairish. So, here are some tips that can help you attain that. Let's take a look at them –
Always manage your inventory properly. Remove items that are unavailable to avoid the disappointment of customers.

Try listing new products frequently to keep the shop engaged.

If possible, try offering a free shipping option on your products. It attracts customers quite a lot.

A great way to keep things interesting is to use a price markdown strategy, which brings extra exposure.

Promote product listings using the promoted listing feature on the platform and social media.

It's best to have branded furniture to get better sales on your items.

Never list products that are in poor condition. It can ruin the reliability of your shop.

Include high-quality product photos for the best sales.

Use proper SEO optimization and keywords to ensure your product is visible to the customers.
Besides all these, you can always head on to the Chairish support to find any kind of query regarding selling on Chairish. 

I am Katja Miyatovich, a 3D artist with almost 5 years of experience in the industry. Currently, I live in New York, USA, and work in a full-scale 3D studio. In addition, I own a separate team working on several different creative projects. Plus, sharing in-depth knowledge about 3D is one of my passions.