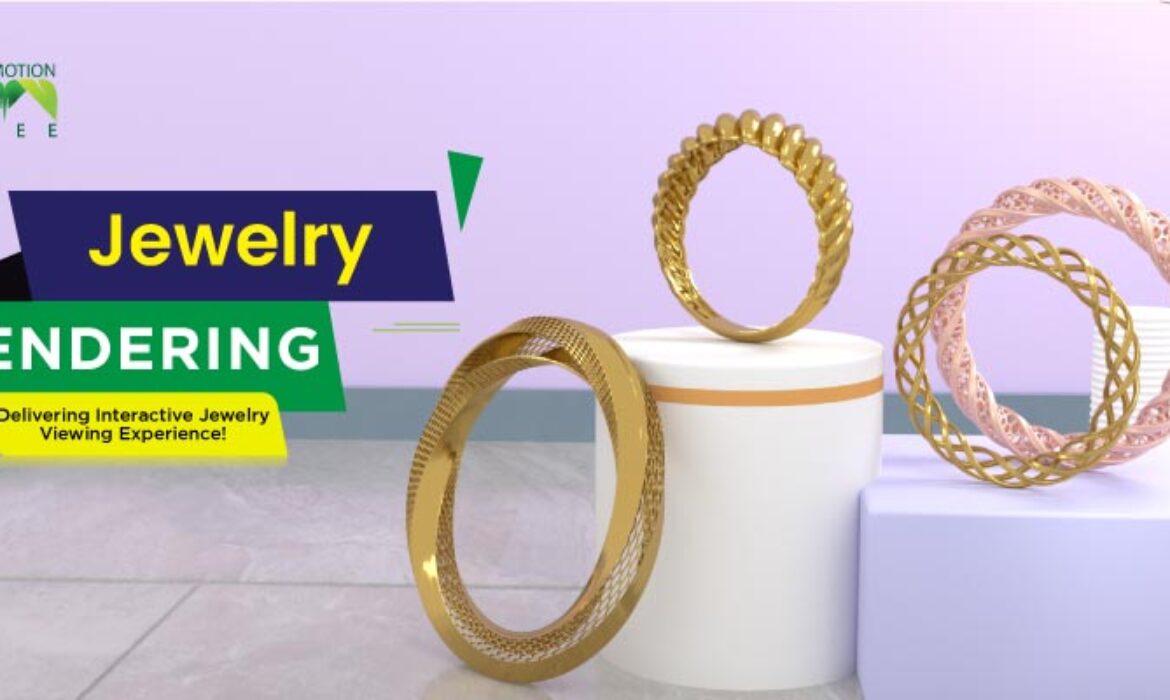 No wonder utilizing the power of advertising through immersive 3D rendering can be the ultimate game changer in any business. In this way, if you run a jewelry business and want to give it a fresh boost or a new look, using jewelry rendering is the perfect solution.
Jewelry rendering empowers you to showcase the collection of your jewelry like never before. It can bring realism to your e-commerce business and can boost your sales. 
However, what is this jewelry rendering, why use it, or more importantly what will be its benefits? To have a complete insight into the matter, let's get going on it.
Jewelry rendering is a computer process of creating photorealistic images of the jewelry pieces from the 3D models making it possible to have a final look at the jewelry even before producing it. 
Rendering of the jewelry is a highly effective way in the design process. Due to it, you can give your jewelry designs realistic images or video shapes. 
In the jewelry rendering process, on the 2D or 3D models of the jewelry, jewelry images are created from every angle, every type of gem [diamond rendering or gold rendering], and in every type of color, whatever the customer's preferences. 
Top 3 Reasons To Use Jewelry Rendering
Nowadays where 3D technology is widely used and recognized, of course, it will be irrational not to use it even for your jewelry business. 
However, here we will highlight the top 3 reasons among many for using jewelry rendering. It will help you to get a clear conception of why you should implement it in your business.
It is one of the most crucial benefits of using jewelry rendering. It is because in this way, every business can have more productivity, with decreased expenses in less time. 
Moreover, in jewelry rendering, a businessman can create and showcase high-quality, detailed jewelry images even before producing. Thus the businessman can predict jewelry sales without spending time or money on manufacturing.
A jewelry businessman can avoid the waste of money in different stages of production by implementing jewelry rendering. 
They can view 3D rendering models ahead of time, making it easier to have decisions. So, they have not to spend money on manufacturing which may seem to be unpopular. 
Moreover, jewelry rendering allows more detailed images than the photoshoot. Then why spend more money on jewelry photo-shooting when rendering offers are better than that?
In the e-commerce business, you may notice that buyers consider uniqueness as crucial as price or quality. By implementing jewelry rendering, businessmen or customers can even create unique jewelry designs without any effort. 
They are able to choose their favorite elements and can quickly turn their visuals into real objects. Moreover, the customers can interact with the business on what they want to buy. 
How Jewelry Rendering Works?
When it comes to jewelry rendering shots, the jewelry rendering services never compromise less than perfect. 
Now, let us see the highlights of how a jewelry rendering service works to provide an ultimate and high-quality jewelry output.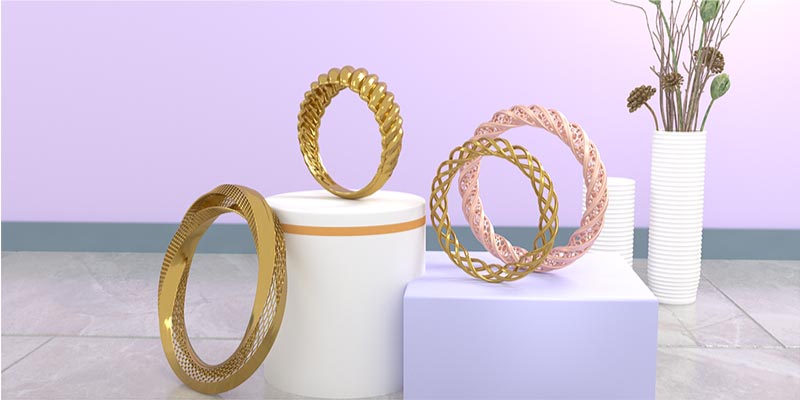 The jewelry rendering project starts by making a jewelry item model following a jewelry image or sketch provided by the customers. Then the designers take the responsibility to make the jewelry image more beautiful and attractive.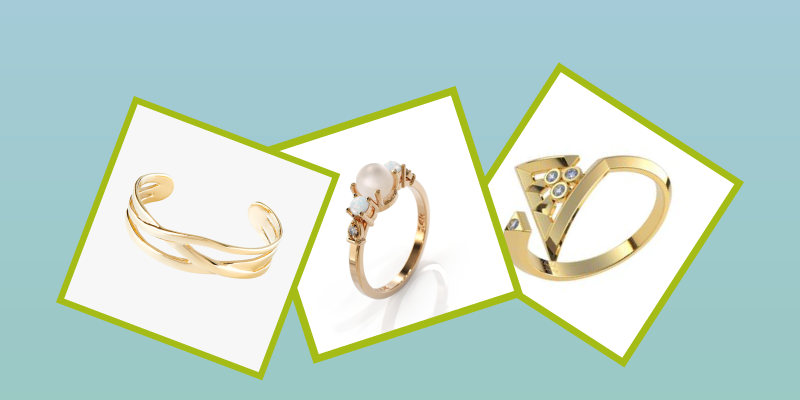 Step 2: Creating CAD Output
Next is to create CAD or Computer Aided Design of the jewelry images with dimensions 100% the same as the image provided by the customers along with the 3D model. The service providers also offer STL files which can be used for pricing the jewelry.
Step 3: Jewelry Rendering Output
The last step is to give life to the jewelry image. Jewelry rendering services will create the exact jewelry rendering image according to your specification and needs.
How Much Does It Cost for Jewelry Rendering?
Nowadays due to the tough competition, the jewelry rendering cost will not be high as the marketplace keeps dropping. 
Depending on the quality of the resolution of the jewelry rendering the prices range from around $75 to $175. However, let us see the prices in detail.
| | |
| --- | --- |
| Type Of Jewelry Rendering | Price [Per Item] |
| Basic  | $75  |
| Large  | $100  |
| Super HD | $150  |
| Custom Basic  | $95  |
| Custom Large  | $125 |
| Custom Super HD  | $175  |
Benefits Of High-Quality Jewelry Rendering Services
In the jewelry business, jewelry images are the gateway to success and boost sales and effective branding. 
If you look into the statistics, 8 out of 10 customers don't decide to buy a product just because the product image is not attractive or good enough. 
But jewelry rendering is much more beneficial in these cases. Let's see how. 
1- Captivating The Customers With High-Quality Images
Due to the jewelry rendering, it has become easy for the business to captivate their customers with high-quality images and the images can bridge them to their precious jewelry. 
It adds tremendous value to the jewelry marketing strategies of the businessman. 
Moreover, the jewelry rendering allows the customers to experience the fine craftsmanship of your jewelry as well as its intricate beauty making the audience into a buyer.
2- Present Your Jewelry In The Most Realistic Way
It is the photorealistic jewelry rendering that can bring your jewelry designs to life. It helps you to stand out in your jewelry collection among your competitors. You can showcase your product most realistically. 
Besides, you can blend artistry and innovative ideas into tangible realities in the shortest possible time.
The greatest advantage of jewelry rendering is that you can create the most realistic jewelry image even before producing it and thus saving time, money, and effort. 
Moreover, it minimizes the chance of mistakes and allows them to make decisions faster. 
You can offer your customer the most accurate and precise representation of your jewelry design as well as can enhance the visual appeal of your jewelry website.
How Do I Choose A Jewelry Rendering Service Provider?
When you are looking for exceptional jewelry rendering services, you will find several choices to choose from. 
But how to choose a service provider that can align with your needs and expectations? There are a number of things that you need to take into account. Let us see how. 
#1- Experience and Expertise

: You should choose a service provider who has experience and a strong background in

3d jewelry rendering

.  

#2- Samples and Portfolio

: Consider the samples and portfolio of their works as it will give an idea of their style of working and quality.  

#3- Technology and Software

: Choose a service provider who uses industry-standard and up-to-date software as well as technologies. 

#4- Pricing

: Evaluate the pricing of the jewelry rendering service. You should prioritize the quality over the pricing alone. 

#5- Turnaround Time

: Consider taking the service of the service provider who has the best turnaround time so that in times of emergencies they can deliver the jewelry rendering in that limited timeframe.  

#6- Reviews and Reputation

: Don't forget to look into the reviews as this is great to have a complete insight into their reliability, reputation, and customer satisfaction. 

#7- Additional Services

: You should choose the service provider that offers additional services like 3D animation, modeling, or VR experience.  
In this way, The Motion Tree is a complete e-commerce solution for your online business. The jewelry rendering services of The Motion Tree have brought together the cutting-edge CAD/CAM technology of the web delivering the most interactive jewelry viewing experience. 
Its ultimate motive is the satisfaction of the clients. That is why, the service keeps its 110% effort to give the clients nothing but the best with years of experience. 
So, why bother to search for the best jewelry rendering service for your next job when the service of The Motion Tree is just there for you? Just contact The Motion Tree and it will keep the ball rolling!

I am Katja Miyatovich, a 3D artist with almost 5 years of experience in the industry. Currently, I live in New York, USA, and work in a full-scale 3D studio. In addition, I own a separate team working on several different creative projects. Plus, sharing in-depth knowledge about 3D is one of my passions.