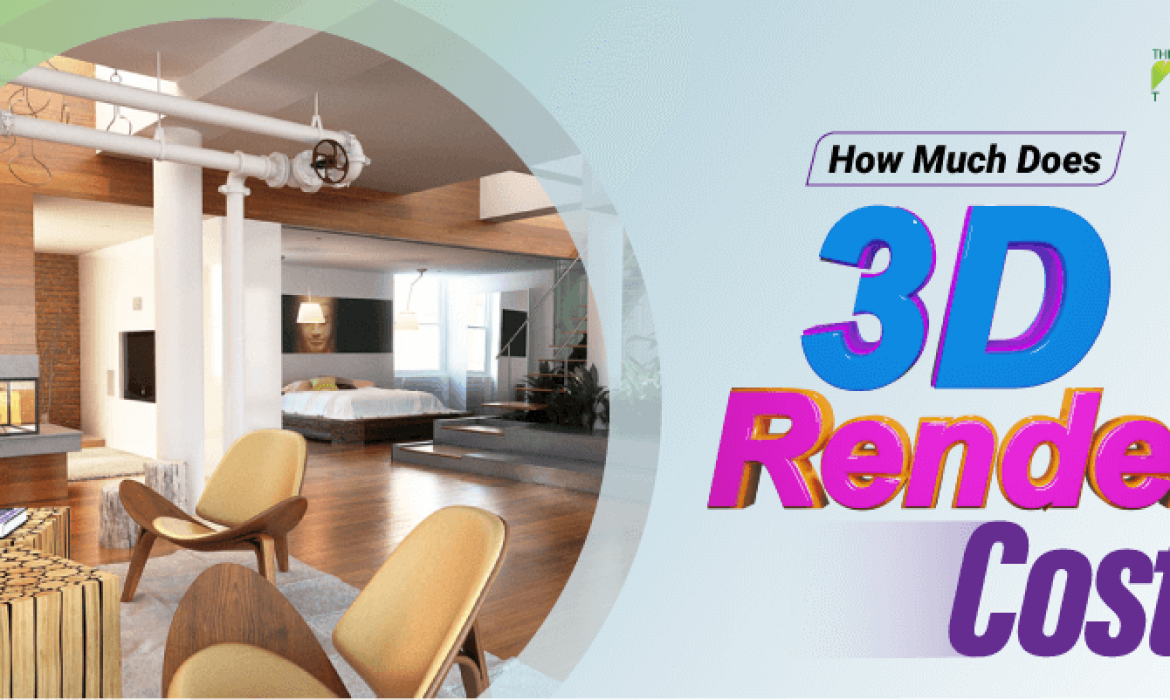 Checking out the costs of 3D rendering is a bit confusing as there are a lot of variations on it, which is why you must learn how much does 3D rendering costs for different projects.
To help you out, we have created an in-depth pricing guideline. It would give you a strong idea of what amount to ask from any rendering agency.
Learning the pricing would give you a strong base to negotiate good pricing on your 3D rendering projects. 
In addition, we will be going over the pricing option that is most popular among rendering agencies.
Let's get into the article.
The cost of 3D rendering can vary a lot depending on the complexity level. Below are the average costs and the turnaround time. These are only estimations, and the real price can go up and down depending on the projects.
| | | |
| --- | --- | --- |
| Task | Starting Price | Average Turnaround Time |
| Simple Rendering Tasks | $20 | 3 Days |
| Medium Rendering Tasks | $100 | 3 Days |
| Complex Rendering Tasks | $150 | 5 Days |
Simple projects are the ones that indicate the starting projects. These projects can be as simple as the one project model rendering. However, these simple projects take somewhere between 2 to 3 days. Hence, you need a lower cost to outsource these sorts of projects. 
As these 3D projects need less time and skill to complete, beginners can perfectly do the job. Hence, going for skilled 3D modelers can cost you a bit higher, but the output would be far more satisfying.
These projects consist of mid-range tasks such as creating a smaller lifestyle 3D composition and similar. These tasks are a bit pricey but not as much as the most complex projects. You need an intermediate 3D model and render expert to complete these tasks.
The average turnaround time for these projects is three days. Although, the turnover can take a bit longer as your project's complexity goes higher. That's why you should consider your 3D project and verify its complexity right away. 
These are the projects which include high-end 3D exterior or architectural rendering. These sorts of projects could be 3D animation scenes that take several days, perhaps, a few weeks. It's a lot harder for any simple 3D modeler and renders expert to compile these projects. 
You should lend a helping hand when your in-house team falls short. Outsourcing your excessive high-end projects would make things easier for you from all perspectives. At the same time, make sure only experts are handling your complex 3D projects, as these projects cost a lot.
Rendering Cost Depending on the Task
| | | |
| --- | --- | --- |
| Task | Starting Price | Turnaround Time |
| Architectural Rendering | $200 | 3-4 Days |
| Product Rendering | $50 | 1-2 Days |
| 3D Animation Rendering | $40/Second | 3-5 Days |
| 3D Floor Plan Rendering  | $199 | 5-7 Days |
| Lifestyle Rendering  | $120 | 2-3 Days |
As you can see on the table, architectural rendering costs a lot more than other services. Why? Because it takes higher skills and experience to be able to take on architectural rendering. Having architectural knowledge is also essential, and it also increases the cost.
Basic architectural rendering might take at least three days to complete, so you should have a minimum budget and timeframe to complete the rendering projects. If you want it faster, the cost will be higher as more 3D experts and resources are needed.
Product rendering costs can be bearable as it starts around the 50-dollar mark. Perhaps, it could fluctuate according to your products, shape, texture, and other factors. Even if you are a small business owner, you could hire product rendering tasks within your budget.
The timing of the product rendering stays lower as it needs a lot fewer resources. But, when you have a higher amount of products in a single composition, the rendering takes more time. Therefore, it's good to check how many products you need to render in a specific time frame.
3D rendering is one of the most expensive and resource-intensive tasks. Most 3D animation studios charge you based on the second or minute according to our research. When you calculate the total pricing, it adds. But hiring a budget-friendly studio is the key if you want to get started.
Nonetheless, it's most likely your 3D animation projects need post-processing or VFX effects at the end. Therefore, it could increase your overall project costs because it takes years of experience to master the VFX industry. 
Pricing for 3D rendering can vary according to how big it is. Most of the time, agencies would calculate the total square feet of your floor plan to determine the pricing. A floor plan doesn't cost you much as it does not require any special skills. 
The time Frame can be minimal for most small to medium scale floor plan rendering. But, if you have a larger floor plan area to render, it can be costly. Hence, make sure you check out the current pricing of the floor plan and negotiate the starting price with the candid agency. 
With the lifestyle rendering, we are mentioning the interior designs. These kinds of 3D rendering can be simple and cost-effective. But the pricing could go up when you want a more realistic effect on your interior design. As 3D modern and render express needs higher resources, the cost increases.
Rendering timeline for lifestyle composition can go higher with realism as well. To avoid extra rendering time, avoid going for ultra-realism when possible. It would ease the rendering process, and the turnover time would be a lot lower.
3D Rendering Post Processing Cost Per Hour
| | |
| --- | --- |
| Tasks | Hourly Rate |
| Video Compression | $25/hr |
| VFX | $26/hr |
| Photoshop | $9/hr |
Video Compression
After you render an animated scene, the first service you may need is video compression. In video compression, we reduce the total video size into a smaller one. At the same time, we try to maintain the video quality despite the compression. 
VFX
VFX (visual effects) are useful when you need special effects such as flame, smoke, fire, or others, VFX(visual effects) are useful. In general, the hourly rate for VFX can start from only $26 per hour. Hene, it can increase as your project's length, and the complexity of the effects goes high. 
Photoshop
Photoshop experts can improve the look and feel of your still 3D render composition. They can fix lighting, exposure, color contrast, and any imperfection. The pricing differs a lot, but the starting hourly rate for Photoshop experts can start from 9$.
Things That Influence the Rendering Cost
Even though many things influence 3D rendering cost, below, we have listed the top 3 points. For the majority of the 3D projects, these points determine the pricing. 
Type of projects:
3D modelers determine the 3D rendering prices based on the types. Like, architectural and animation rendering can cost differently.
Complexity:
Depending on how complex your 3D rendering is, our 3D rendering costs can go a lot higher. For example, the project pricing can be larger on high-poly models.
Quantity:
The quantity of objects in your 3D rendering scene is an influencer in increasing flies. An interior scene with more furniture would cost you higher than a cleanroom.  
Popular Pricing Scheme for 3D rendering
These are the popular pricing schemes you will come upon in most 3D rendering agencies. 
3D Rendering Cost Per Image
When rendering a single scene, the agency might ask you for pricing per image. Most of the time, 3D modelers count the total files you require to render. Afterward, they would come up with a compensated pricing. In short, higher files equal lower costs.
3D Rendering Cost Per Hour
Rendering projects such as 3D animation rendering needs cost per hour or minute scheme. Therefore, it helps both you and the renderer to fix the pricing. 
3D Rendering Cost Per Project
Going for project pricing is the way when your project is a lot bigger to count on per image or hour. When considering the pricing of projects, negotiation is a must. Plus, you would want to contact multiple service providers to compare the pricing. 
Let's get into the questions you may ask when checking out the 3D rendering cost.
Frequently Asked Questions
3D rendering is essential in architecture, medical, entertainment, game development, marketing, and so on. Due to the popularity of 3D scenes, rendering is becoming more common in daily life. On some of the projects, it's mandatory to create 3D scenes. 
On average, the monthly salary of the renderer is around $15,000. Not to mention, these are only estimations and not real numbers. The payments could be higher or lower in different parts of the world. The following record is only for the United States and surrounding areas.
The median salary of an Architectural renderer in the USA is $92,000. It's an average salary, and a few architectural renders are higher than the mentioned salary. Plus, the projects can be a dividing factor in their salaries. 
The above-mentioned price charts will give you enough idea of how much does 3D rendering costs in general. As a result, you could determine the pricing when you go for a 3D rendering service. 
No matter which type of 3D rendering task you will need, finding out the pricing is easier. 
But, while you are looking for rendering service, make sure to compare different service providers. It would help you determine the base price for each of the services you take. 
Once you get to know the pricing of each service, selecting the perfect service provider becomes easier. 

I am Katja Miyatovich, a 3D artist with almost 5 years of experience in the industry. Currently, I live in New York, USA, and work in a full-scale 3D studio. In addition, I own a separate team working on several different creative projects. Plus, sharing in-depth knowledge about 3D is one of my passions.