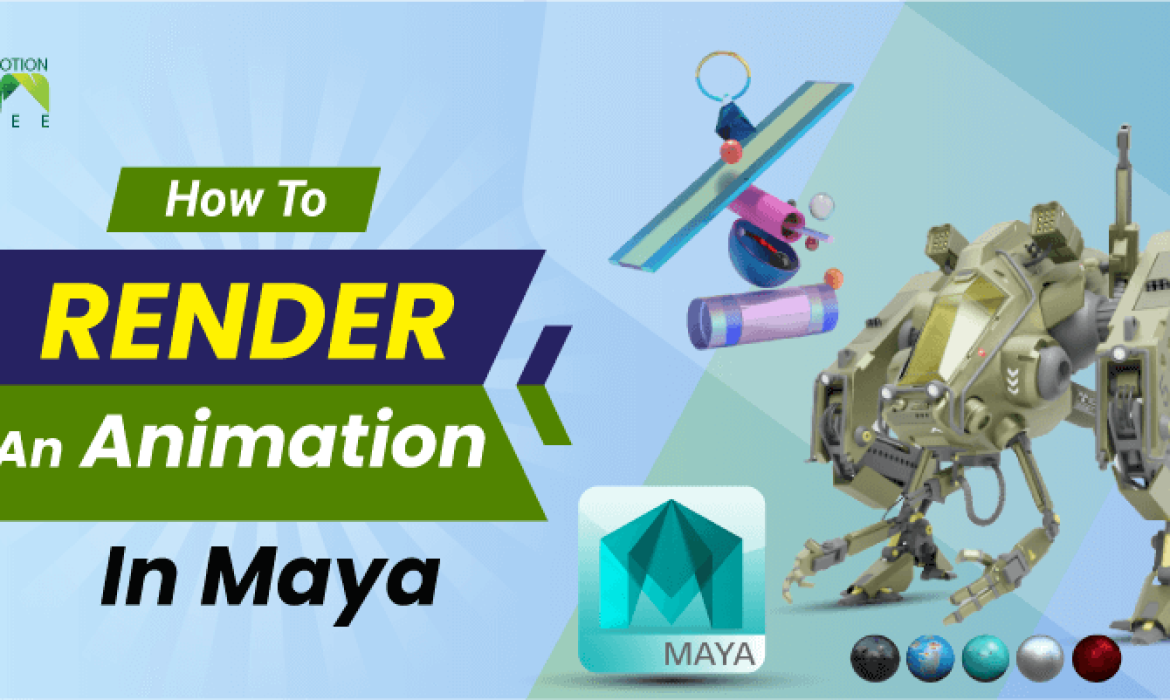 Modeling, texturing, and Rendering are the three vital phases of any 3D work. And Rendering is the hardest of all. Moreover, if you are on some 3D animation work in professional software like Maya, knowing the proper rendering process is a must. 
Apparently, to get you in the right way, we have structured this article describing how to render an animation in Maya. We have designed our steps on the latest 2023 version of Maya, and it is a basic process. Give it a roll!
Since its inception, Maya has been known for its ease of use and the ability to create high-quality renderings. However, some users may be surprised to learn that rendering in Maya is different from other software packages like blender, v-ray, corona, cinema 4d, and 3ds max. For one thing, Maya uses a "point cloud" approach to Rendering instead of a "ray tracing" approach. 
This means that objects are not rendered as individual polygons but rather as a mesh of points. These points can then be used to create the final image. This is different from other packages that render objects as individual polygon points.
Next, Maya uses a "bump mapping" approach instead of normal lighting or reflection. For example, if you are modeling a shiny object in Maya, you can add a bump map to the surface of the object. This will cause the surface to reflect light differently than it would without this bump map. Maya makes it possible to add a lot of detail to your model without having to worry about lighting or reflection.
How To Render An Animation In Maya 2023(3 Simple Steps)
After you are all done with your animation, it is time to render. Here we have demonstrated the easiest way to render animation in Maya. We demonstrated the process in Maya 2023 and used the Arnold renderer to get the job done. Let's check on the steps:
Step 1: 
First, open the Display Render Settings Option from the top menu of the display. When you click on it, a popup box will appear on display. From the box, select the Render Layer and set it to the Master Layer. And set the Render Using option to Arnold Renderer.
Step 2: 
After you set the option to Arnold Renderer, there are some settings you have to give input on. Firstly, go to the Common Tab from the box and set up the File Name Prefix. Give your file a name and keep it short. Then pick the Image Format. You can either choose the jpeg. Or png. Format. After that, set the Quality to 100. Now set up the Animation Extension to name*.txt. Next, set up the Frame Range depending on how many frames your animation has. Finally, set up the Renderable Camera and Image Resolution as you like and close the popup box.
Step 3: 
New from the upper left corner of the screen, click on the dropdown menu and set it up to Rendering. And from the top menu, click on the render. A dropdown menu will appear, from which you have to select the Render Sequence Option. Once you click, a popup will appear. From that menu, Select Camera and File Location. Finally, press the Render Sequence and Close. Your Rendering will start, and all the files will be saved in the location you selected.
Now the only task remaining is to put all the rendered frames together and enjoy the animation. To do this task, you have to use Premier Pro software.
Is Rendering process Different In Other Versions Of Maya?
Given that Maya is an industry-leading 3D animation software, it would be reasonable to assume that its rendering process is very similar across all versions of the software. However, this isn't necessarily the case. In fact, there are a number of differences between the rendering processes in Maya 2016 and Maya 2023, which can have a significant impact on the Quality of your finished product. 
The differences are particularly apparent when using different renderers, such as mental ray and Arnold, but also impact other renderers as well. Let's take a look at the differences between Maya 2016 and Maya 2023 and what impact they might have when rendering.
There are two main differences between the renderers in Maya 2016 and Maya 2023. Likely, in the earlier versions of Maya, the Mental ray rendered of 32-bit was the default. But the updated versions, like 2023, use the Arnold renderer instead of mental Ray.
Also, Maya 2023 still uses a global illumination approach but will also allow you to use local illumination as well. In addition to the differences mentioned above, the code for both renderers is different as well.
Frequently Asked Questions
In the updated versions of Maya( after 2021), the Arnold renderer comes as default. So, technically Arnold's renderer is free in Maya Via mtoa.
FBX is a data exchange format mostly used to exchange 3D assets. This format allows exchanging High-end data between third-party software like 3ds Max, Mudbox, Maya, etc.
Rendering in animation is the process of creating a realistic image on a computer screen from a series of drawings made by an animator. This image can be used to create an animated character or scene. The purpose of Rendering is to create a realistic image that can be used as the basis for creating an animated movie or video.
Rendering an animation in Maya is an intricate task, but with the right tools and techniques, it can be a fun and rewarding experience. With the right software, you can create stunningly realistic animations that can truly bring your designs to life. So if you're interested in learning how to render animations in Maya, be sure to take advantage of the steps we described and use the resources available online.

I am Katja Miyatovich, a 3D artist with almost 5 years of experience in the industry. Currently, I live in New York, USA, and work in a full-scale 3D studio. In addition, I own a separate team working on several different creative projects. Plus, sharing in-depth knowledge about 3D is one of my passions.