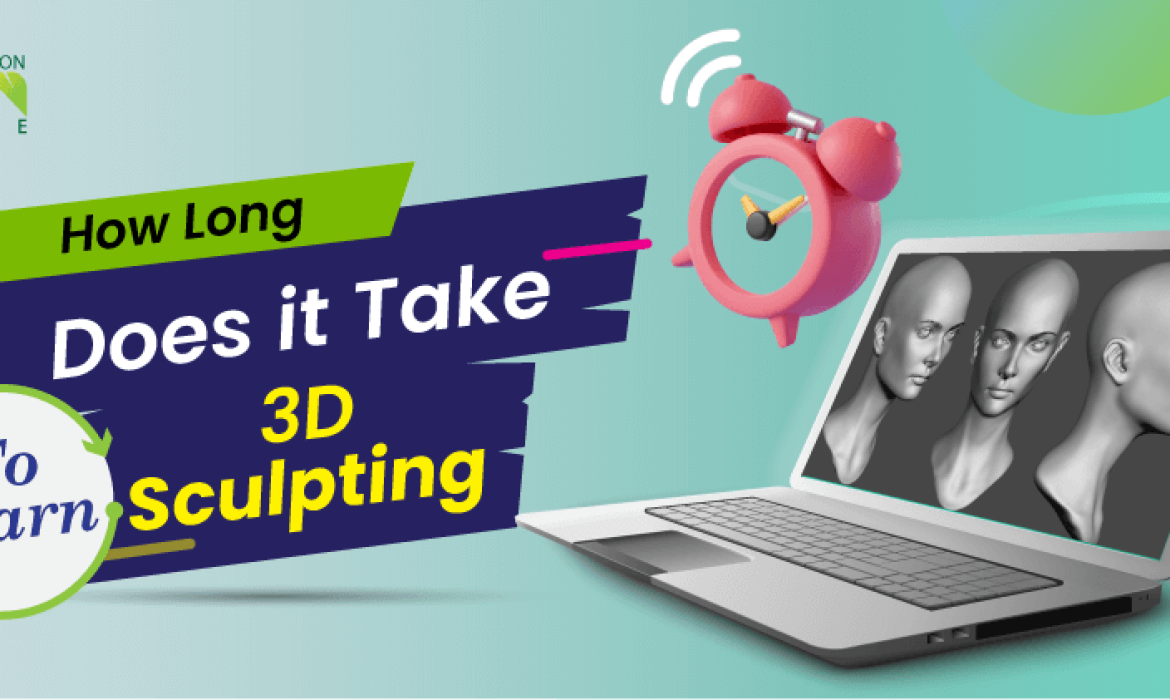 Sculpting is a form of art that demands the highest peak of creativity. Also, the artist has to see everything in the form of art. Sculpting is not only strokes of brush or splashes of paint. This art form is perfect mastery of hands. And these statements don't change even when it is about 3D Sculpting.
Likewise, you can learn to give the mud a shape in a few days, but if you are up to creating something like "Michelangelo," then you have to work for years. It is also the same in case of 3D Sculpting. If you are asking how long does it take to learn 3d Sculpting? 
You can learn basic 3D Sculpting within 6-12 months, but mastering the skill can take years. But why 3D Sculpting takes so long? Get the answer below!
3D Sculpting is a type of digital modeling that creates three-dimensional representations of objects by assembling a series of slices or layers. Users can create and edit 3D models using various software programs until they are satisfied with the results. However, the process can be time-consuming and require extensive knowledge of digital Sculpting and 3D modeling software. 
Before users can begin their 3D Sculpting, they will need to create a model to work from. This model can be created manually or by using a 3D software program. The 3D model is a series of individual models that are connected by lines called "planes." A user can create a new plane in any area of the model using the three-dimensional modeling tools found in their software program. 
Once a user has created the new plane, they can begin sculpting. The process of Sculpting involves easing away from the original plane, creating a "removal" by pulling out small sections at a time. Then, the model can be smoothed out by manipulating the planes around the new one. With practice, a user can create very smooth models.
On the whole, Sculpting is a process in which a user manipulates 3D objects by creating the illusion that the object is made of separate planes. The user starts with a plane and sculpts it into shape and detail. Sculpting is an excellent tool for adding element to models and creating new ideas. 
How Long Does It Take To Learn 3D Sculpting And Why
Any task in 3D no matter modeling, texturing, or rendering, takes a lot of time to learn. But the time duration gets longer when it comes to advanced 3D works like Sculpting. And if you are a beginner and only thinking about learning 3D Sculpting, you have to get down on a mission for at least 2-3 years to become a master. However, you will learn the basic sculpting process within 6 to 12 months, but mastering the art will require a couple of years. 
Moreover, there are several other factors that will determine how long it will take for you to learn 3D Sculpting. If you already have grips on the 3D tools and know the basics, then advanced 3D sculpting will cost you 1 or 1.5 years. But if you are a newbie to the 3D world then we are talking about a long duration of 2-3 years for real. Seemingly, your device also matters a lot. The learning process gets longer if you do not have the right device. On the other hand, if the device is all up to the mark, you are all set to be a 3D sculpting master within a couple of years. 
Overall, the sculpting process in 3D is a hard and long process to get mastery, and you have to have a lot of patience to get a complete grip on the skill.
What Are The Best Beginner Softwares To Learn 3d Sculpting?
As you already know how much time it takes to learn 3D Sculpting, it is time to start the journey. Therefore, to start working, the first thing you have to do is select the software you want to work on. Usually, there is a lot of software available for 3D works, and it almost comes with the same features. But not every software is good for every task. Likewise, some are best for product modeling, while some are best for animations. In the same way, for sculpting in 3D, not every software works up to the mark. 
Moreover, if you are a beginner, you must choose the software to use wisely. The high-end ones are all paid, and you do not want to waste money even without knowing where you are investing. So, as beginners, the best 3D software for Sculpting is:
Leopoly

Clara.io

Sculptris

Vectary

Meshmixer

And Morphy
Anyway, if you are already a professional and new to Sculpting, then the software we suggest are:
3ds Max Design

Maya

Blender

Cinema 4D

ZBrush

Unity
These are some of the best 3D modeling software professionals prefer. However, all this software requires a high-end PC to run on. Also, they are all paid except for Blender. So, practicing the beginner options is ideal for learning.
Frequently Asked Questions
Learning 3D modeling doesn't need schooling but needs a lot of practice and hard work. Seemingly, if you can take help from some online resources to get help in learning. Moreover, you can teach yourself 3D modeling if you are punctual. 
Learning 3D Sculpting is not exactly hard to learn but requires a lot of time and patience. However, if you have the right device and proper guidelines with enough time to invest, then learning 3D modeling is not hard.
Zbrush is the tool mostly used by the professionals for 3D Sculpting. However, other tools are available that can efficiently do the sculpting jobs like Maya, 3D coat, Sculptris, etc.
3D Sculpting is a time-consuming process, but with the right tools and practice, it can be easy to learn. With the right software and equipment, you can start creating realistic sculptures right away. If you're interested in learning 3D sculpting, make sure to find the tools and resources that are best for you. Remember to be patient and persistent; with the proper techniques and practice, you can create amazing works of art in no time at all!

I am Katja Miyatovich, a 3D artist with almost 5 years of experience in the industry. Currently, I live in New York, USA, and work in a full-scale 3D studio. In addition, I own a separate team working on several different creative projects. Plus, sharing in-depth knowledge about 3D is one of my passions.