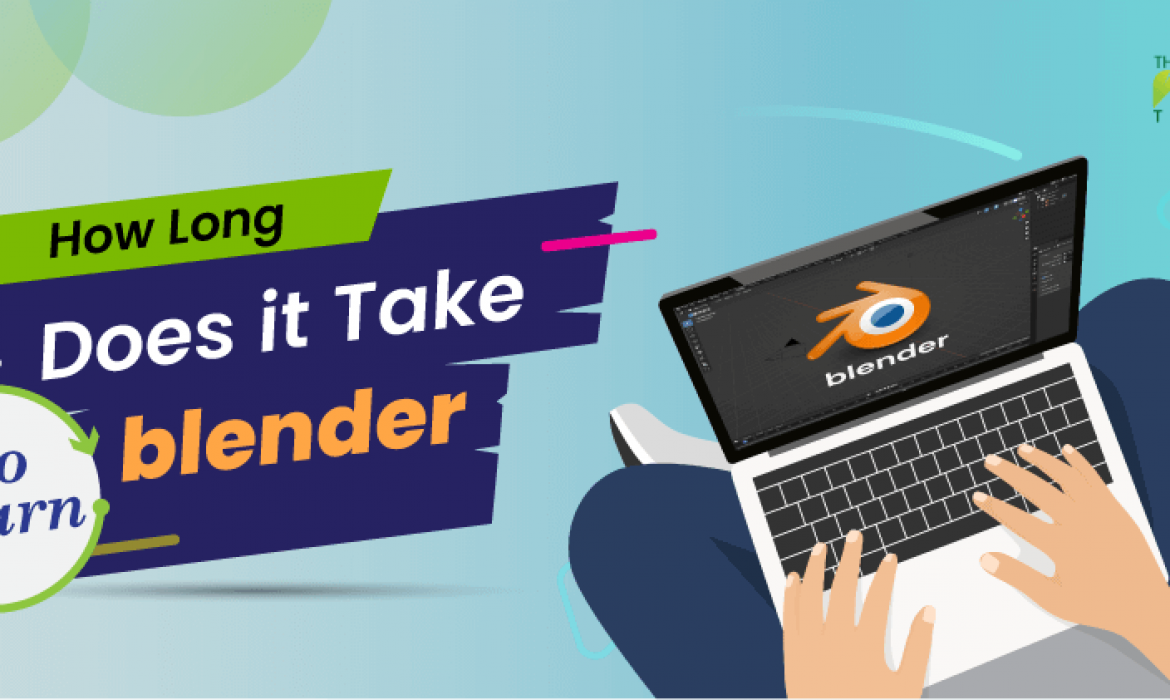 Blender has been popular for a while. So, perhaps, you need to learn it to harness its real power. But how long does it take to learn Blender? In short, it depends upon the task you are learning. In the following article, we will explain each part in detail.
Each of the timeline is a rough estimation of the learning curve for the specific task.  Hence, you could turn the learning time shorter with daily practice.
Moreover, It's better if you focus on learning a single aspect of  Blender. Because, the software gets used in multiple industries like in 3D Modeling, product visualization, after effects and others. Let's get more into it.
Learning Blender is one of the most important tasks as a 3D modeler. But, like other software, it demands a steep learning curve. Once you get ahead of the learning curve, an abundance of possibilities awaits. All of these features come free of charge which makes it more attractive for beginners. 
In addition, learning Blender will let you create exceptional results. In addition, the updates of the Blender software are frequent. As a result, you can implement new-age techniques into your projects much quicker. 
How Long Does It Take To Learn Blender
Learning out the Blender does take an ample amount of time and effort. Yet, it depends on the task you want to achieve. The learning curve can be a bit longer or shorter depending on the category. So let's get into it and explore more about the time it takes to learn.
Learning 3D Modeling can take at least four months to master. Because it's the most basic part of the software, yet it's a bit complex. You need to learn Modeling, meshes, and others. How to merge meshes in Blender might take some time to master.
In addition, you must learn different sorts of 3D modeling software during the process. For example, software like Zbrush is a great option when you are into sculpting. It explains how easy 3D Modeling is to start with but takes time to get perfect. 
For Product Visualization
Product visualization can provide you with the great luxury of creating better imagery right out of the bat. However, you may need three months, at a bare minimum, to learn the following skill. To learn product visualization, you must keep on practicing. 
You may need to learn textures, UV mapping, and others within the product visualization. Learning these things might take some time. But with a little effort, it would get into your expertise. So, keep researching on making better product rendering, and everything will be fine.
For Asset and Model Creation
To learn asset and model creation in Blender, you must spend at least five months. It's an intricate yet popular task that gets used in game development. Most of the time, you have to specialize in a specific sector to get a placement.
On the other hand, character model creations are also part of most next-generation games. Plus, it gets used in animated movies and documents as well. Hence it's one of the advanced tasks which need a long time frame to master. 
After Effects, or in other words, VFX, is one of the hardest things to learn. It takes at least eight months of continuous learning to learn the visual effects functions of the Blender. Hence, after-effects functions let you create amazing compositions, and most of the time, it works.
Hence, learning the visual effects can be a time-intensive process. To fasten the process, you need to go for tutorials or paid courses. As a free learning platform, Youtube can be a huge boost. On the other hand, paid platforms like Udemy would serve the best. 
Learning motion graphics in Blender can take at least one year because it's the most time-consuming and labor-intensive process. Hence, most motion designers have taken more than one year to learn it on Blender. Hence, Blender provides you with hefty options to create better motions.
The motion graphics let us create amazing movement within different objects. These need nodes, adjustment, geometric transitions, and others. As a result, you must learn everything from start to finish. 
Frequently Asked Questions
Learning Blender can get you a job, but it's not certain that it will bring out the jobs to you. For tasks such as Modeling, animation, and game designing, VFX artists need tools such as Blender. Hence, you must learn it perfectly to get ahead in your career. 
Platforms such as Youtube and Skillshare can be great for learning Blender. For example, on the following platform, you could learn about different sections in an organized manner. The first one is free and the second one is paid. You may need to get a subscription to use Skillshare. 
Blender does have easy entry points, but it's not suitable for beginners. In addition, you need to have a sound understanding of basic 3D terminologies. Hence, you may need a bit of extra time to master the basic features of Blender.
How long does it take to learn Blender when you are on edge? Well, now you have got the answer. The learning curve can be big or shorter depending on the task. This is why it's always better to know about the task beforehand. 
In other words, it takes time to master Blender. You must stick to the learning process until the end. Hence, don't give up if it takes longer for you. Instead, take a short break and return when you are ready. It would be the best way to go forward.

I am Katja Miyatovich, a 3D artist with almost 5 years of experience in the industry. Currently, I live in New York, USA, and work in a full-scale 3D studio. In addition, I own a separate team working on several different creative projects. Plus, sharing in-depth knowledge about 3D is one of my passions.