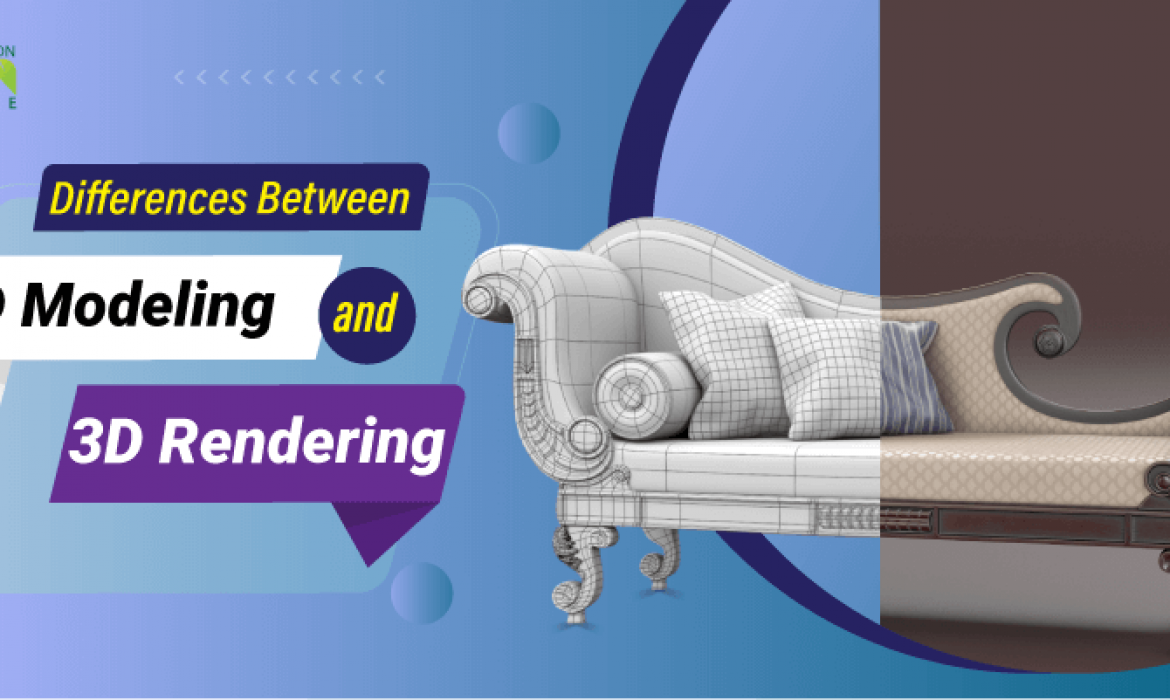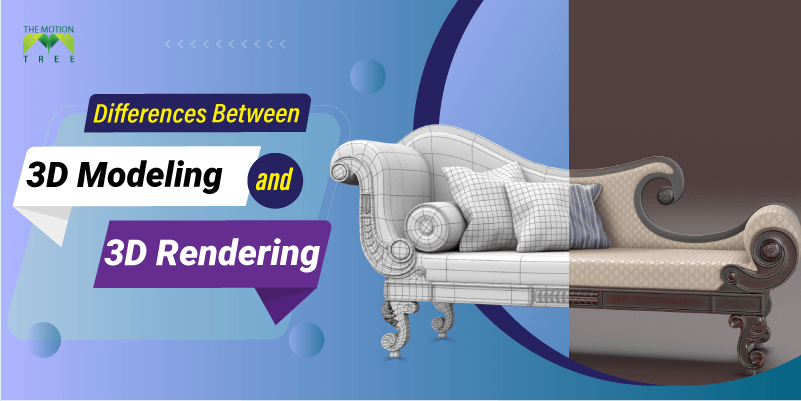 Even though 3D modeling and rendering are close to one another, they have some differences. So, let's put them all at once and find out the key difference between 3D modeling and 3D rendering.
Knowing about 3D modeling and rendering would let you better explore the 3D projects. Plus, it provides you with in-depth knowledge about the industry.
To clarify your confusion, below, we outline the key differences between both tasks. These are in simple words and easy to learn for experts and beginners alike.  
You could take more ambitious projects down the line with a clearer understanding of 3D modeling and rendering. So let's get into the action.
First, to sneak into the real meaning of 3D modeling and rendering. Below, we will dig deeper about it and 3D modeling and rendering one after another. It would make understanding both of the terms a lot easier.
Definition of 3D Modeling
3D modeling results from computer software creating a geometric shape in a virtual space. It includes customizing vertices, edges, and polygons as well. Several 3D softwares are used to create these shapes. People who create these shapes are called 3D modelers. In addition, 3D modeling is one of the key steps to getting 3D rendering.
Definition of 3D Rendering
The rendering is a process to create 2D images out of a 3D composition. These kinds of tasks may result in photorealistic output or more cartoonish ones as well. The output depends on the settings which are set by the render expert. 
Key Difference Between 3D Modeling And 3D Rendering
Once you know the definition, Look at the areas in which both have differences. These would make it clear to you the differences in a simple manner. Of course, both of them have other differences, but these are the most crucial ones. 
1. Usage
Usage of the 3D modeling stills in access to different professional fields. For example, 3D modeling is useful for prototyping, new designs, and product development. Plus, 3D modeling has its usage in 3D rendering as well. 3D modelers use it to get a better output.
Rendering, on the other hand, is popular for visualizing the 3D modes. Professionals use it to better visualize their 3D models. With improved settings, anyone could achieve real results right away. We use the rendering process to create better output from any 3D models. 
2. Steps 
modeling steps are the ones with different software to create geometric shapes. Hence, the modeling steps include creating rough sketches, creating basic models, and customizing them. Plus, we have to prepare the model for the next step, which is rendering. 
On the rendering side, the steps are a bit advanced. For instance, these steps could be creating perfect lighting, including and excluding different settings and others. Each step determines how any model would look as a result. 
3. Softwares
Software of 3D modeling is different from the tools of rendering. For example, 3D modeling and sculpting tools are like Blender, Autodesk Maya, and Sketchup. Even though these software features rendering capability, they are primarily used for modeling.
You could find countless 3rd party 3D image rendering solutions as well. For example, Vray is a popular software used on professional projects. The job of this tool is to make the task easier for you. Plus, they provide you with average results as a result. 
4. Working Process 
The creation process of the 3D model involves different kinds of steps needed in rendering. Most of the 3D modelers create rough sketches, determine the geometry, and customize objects, vertices, and others. It's a complex process, yet it becomes easier with time and experience.
Render experts make the 3D model suitable for better visualization. As a result, the 3D model gearset's faster and improved rendering. A successful render will give compelling results with the proper setting and setup. The working process of 3D rendering can be a bit more advanced than 3D modeling. 
5. Costs
3D modeling costs a lot, depending on how complex a model is. For example, low poly 3D models cost way lower than the high poly ones. Plus, if the model creation process is much more complex, it could be more costly. But in general, modeling is not as expensive as rendering.
The cost of rendering tasks is much higher as it needs more resources. For example, it takes place on high-end computing resources. Plus, it takes time, making it one of the costliest processes. You might choose a custom rendering solution, but it depends on your budget and working policies.
6. Results
Even if you work hours, the result of 3D modeling would be less attractive without rendering. Therefore, you need a process to create better visualization. The result of 3D modeling is a geometric shape represented in a virtual space on a computer.
Similarly, rendering provides you with the perfect output of a 3D model. The result of the render provides you with a more realistic output. It would let you feel like the 3D model is sitting in the real world. Hence, the results are the most rewarding for every modeler.
7. Repetitive Usage
When it comes to repetitive usage, 3D models are great to have. As a 3D modeler, you could reuse the same 3D model repeatedly. But, you might have to make slight customization depending on the composition. But, it turns the whole process a lot faster.
Rendering, on the other hand, is not good for repetitive usage. Like, you won't be able to use the same settings for each of the 3D compositions. You must alter the render settings and lighting setup to get better results. Hence, reusing render settings is not a good idea.
Which Process Is The Most Crucial?
Among 3D modeling and rendering, both of them hold the same level of importance. To be specific, getting a perfect render also creates perfect kinds of models. No one can achieve the ideal render output without proper models and settings.
In the same fashion, 3D rendering is crucial for crafting the final output. Again, the render expert tries to tweak different settings to provide the ideal result. As a result, it's very crucial from all perspectives.
Tips On How To Make 3D Modeling And Rendering Easier?
To make the 3D modeling task a bit easier, you could follow the below-mentioned steps. It would make your 3D modeling and rendering steps seamless right away.
1. Use the right tools As 3D modeling and rendering have different kinds of software, use the accurate tools. 
2. Optimize render settings Optimizing your render settings turns the process much more seamless.
3. Go for the ideal process Following the tried and tested method of modeling and rendering would make your task much simpler, which is why it's better to calculate and pre-plan each step beforehand. 
Frequently Asked Questions
The 3D modeling process involves creating a shape outline and executing it on 3D software. Within the 3D modeling process, changing and customizing vertices and edges is the most common task. Therefore, people who work in the 3D modeling process need solid knowledge of creating and customizing shapes.
Even though 3D software can render, you could find countless tools as well. Among popular 3D modeling tools, AutoDesk 3Ds Max, Blender, and Cinema 4D are popular ones. On the other hand, 3rd party render solutions like Vray, Octane and others work great.
The 3D modeling features basic tasks such as customizing shapes, but it costs less. But, rendering is an enhanced task that takes long hours, and high resources, making it costlier. Hence, you should consider pricing when taking any custom 3D rendering service. Negotiate, and the service provider will offer you the best pricing.
Conclusion
Finally, the difference between 3D modeling and 3D rendering is their usage. We use modeling to create a shape so we could render it out later. So no matter how simple or advanced your project is; you must use two of the processes.
Perhaps, take each of the steps of modeling and rendering seriously. Then, because of the proper execution of 3D projects, you get fascinating results right on the go.  
You should not be afraid to take on your dream 3D projects, as modeling and rendering skills get easier with time. It'sIt's a simple yet amazing process to learn and go into.

I am Katja Miyatovich, a 3D artist with almost 5 years of experience in the industry. Currently, I live in New York, USA, and work in a full-scale 3D studio. In addition, I own a separate team working on several different creative projects. Plus, sharing in-depth knowledge about 3D is one of my passions.