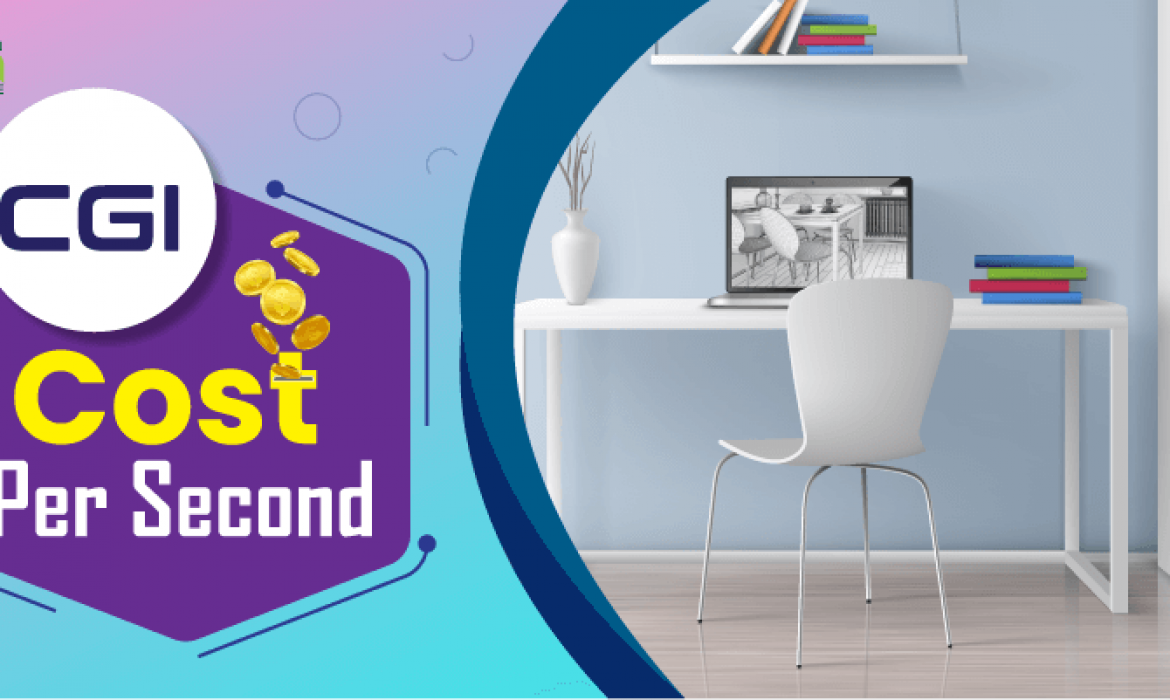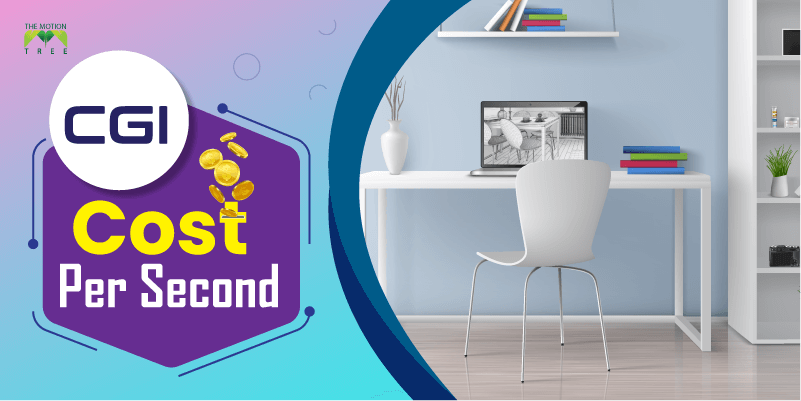 Most of the animation movies you love consist of CGI effects. But, when you try to make your animated video, most creative studios would charge per second. Want to know, how much does CGI cost per second? We have got you covered.
CGI aka Computer Generated Imagery needs a lot of skill set to master. Perhaps, when you know the second cost, negotiating a good price would be easier.
We have found out the average cost per second. with tons of research and analysis. These can be great starting points when you first start to get CGI services.
You could get to see different sorts of aspects that determine the CGI animation cost. Let's look at these points, which play a key factor in setting up the cost.
Complexity:

Among all aspects, the complexity of the CGI models can determine the actual pricing of animation. It could change the per-second pricing as well.
Total Length:

CGI modelers and animators calculate the total length of the video or animation. 
Revisions:

Revision can be a dividing factor when the client is asking for several rounds of edits.
How Much Does CGI Cost Per Second
The CGI cost per second is at least a minimum of $13 per second. Similarly, it would cost you around $800 per minute. At the same time, these are just estimations of the cost. The actual cost can go a lot higher based on the project.
With the term CGI, we refer to 3D animation and visual effects. Perhaps, it's a bit of a costly task to go on. Professional CGI studios charge a lot higher on their projects. We would suggest you negotiate the rate beforehand to reduce the overall cost.
Other Payment Options
You could go for other payment options for your animated movie. However, it's not as popular as the second scheme. Still, you could use these payment schemes for better productivity and efficient payment. 
Hourly
The hourly payment option gives you great control over the overall payment. Because in the following scheme, you pay the animators according to the hours it took. You calculate the total cost by multiplying the hours with the rate. Hence, you should fix the hourly cost beforehand.
Project Wise
Large CGI projects such as animated movies get charged ProjectWise. This payment scheme is great as it sums up all of the pricing at once. But, one downside of it is you need to estimate and negotiate the total cost at once. It's rare to change the base pricing of a project.
Some Of The Expensive CGI Projects
To get the overall idea of the cost of CGI, let's check out some of the expensive projects. Below mentioned projects contain some of the costliest CGI effects. Let's get into it: 
Jurassic World:

Fallen Kingdom: It's an animated movie released in 2018. The estimated cost of the movie was around $170 Million.

King Kong:

With a $207 Million budget King Kong is one of the most expensive 3D movies. Most of the cost went to creating the main animated character and VFX.

Transformers:

One popular animated movie popular for its sci-fi action scenes. The Transformers CGI cost has gone to $217 Million at the end of the production.
Things To Consider To Lower CGI Cost 
Want to lower the CGI cost? Better follow some of the easiest ways to reduce the cost. With these tricks, you could reduce the workload for you and the team working on your project.
Use Green Screen
Going for a green screen would make the CGI task a lot easier. For example, when a video has a green screen as a background, any video editor can put a custom background with one click. It's a great option to put your subject or character in a custom environment.
Insert Stock Video Footage
Many don't realize how powerful the stock video footage can be. Many popular movies and series incorporate stock footage into their CGI scenes. For example, you could download a custom CGI scene and embed it into your animation. It would drastically reduce overall cost.
CGI Cost Vs. VFX Cost: Comparison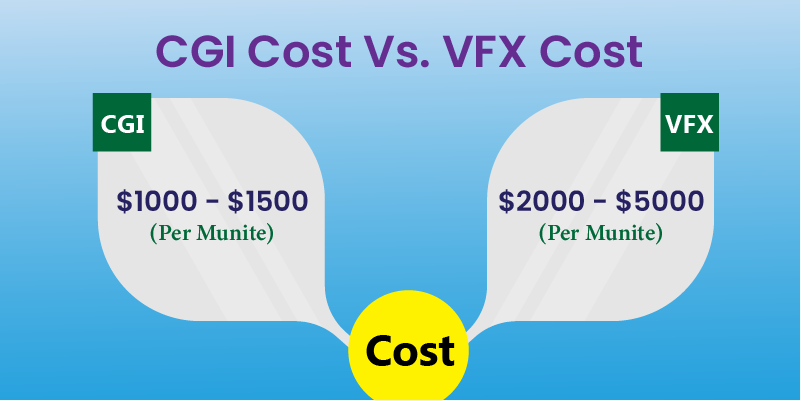 When compared to VFX, the CGI costs way less. VFX is a lot costly as it could go up to $2000-$5000 for each minute. Perhaps, the VFX includes complex visual effects which take a lot longer to create. The artist's hourly rate is higher than what you have to pay for projects.
Perhaps, you should be in CGI and use VFX effects less. It would help you maintain the budget in an affordable range. However, when going for VFX on the CGI projects, select the right service provider. It would lead you a long way. 
Note: To be specific, CGI cost per minute is around $1000 – $1500, when considering $13 or more for each specific second.
Let's take on some of the most asked questions on CGI cost.
Frequently Asked Questions
Even though the cost can differ greatly, the average cost can be around $570,000 per minute. Perhaps, it's an estimated amount, and the actual cost would differ in the real-life scenario. Actual prices can go up with the complexity of the project. 
The VFX budget sums up one-fifth of the total expense in standard Hollywood movies. But when you turn it into numbers, it could be anywhere between $15K and $70K for each movie segment. In a nutshell, VFX costs a lot compared to the CGI effects.
CGI and VFX both are high-paying jobs when putting it beside other tasks. Because these kinds of jobs require some top-level skills, plus it takes hours and hours to get to perfection. Achieving photorealism requires high-configured computer units as well. 
Conclusion
After learning how much CGI costs per second, we could all agree that CGI is expensive. Even though it costs a bit, the result is amazing.
The computer-generated imagery is a lot nicer to watch, plus these are highly customizable. Learning about the pricing per second helps you in the next creative projects. You could negotiate the pricing a lot better. 
No matter how you feel about CGI service, it's a lot effective in improving your marketing or movies. Go on and start getting better animation service. 

I am Katja Miyatovich, a 3D artist with almost 5 years of experience in the industry. Currently, I live in New York, USA, and work in a full-scale 3D studio. In addition, I own a separate team working on several different creative projects. Plus, sharing in-depth knowledge about 3D is one of my passions.