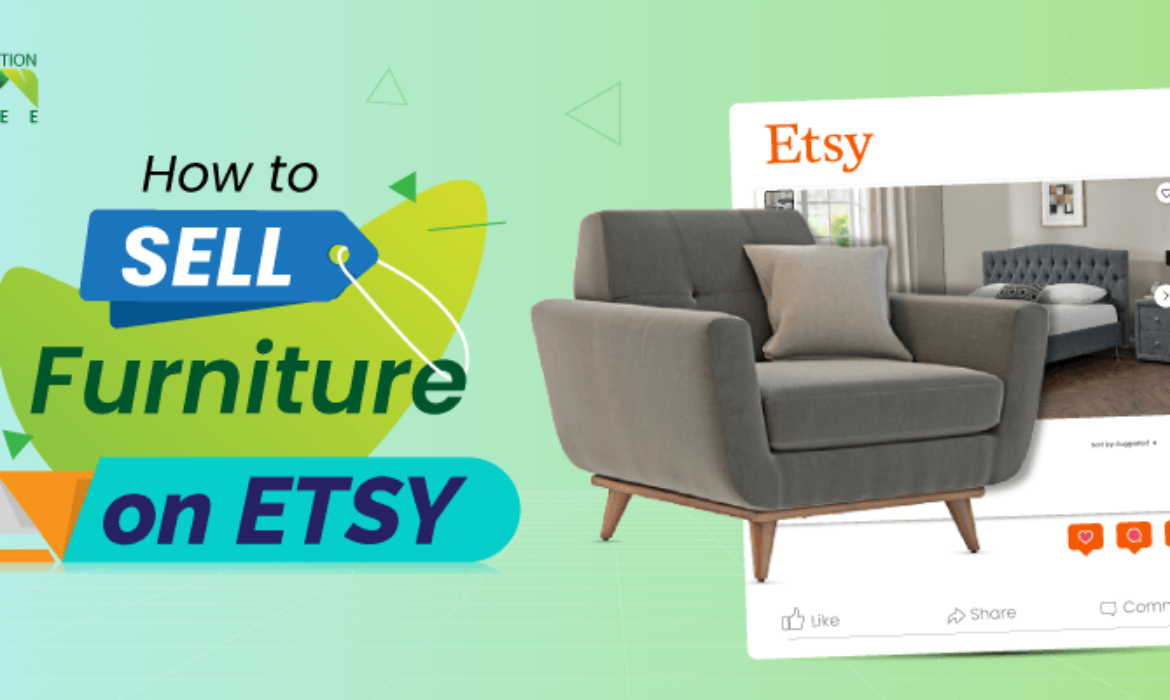 Selling furniture has become a lot easier with all the e-commerce platforms out there. Among many of them, Etsy seems to be an amazing option. Now, the real question is how to sell furniture on Etsy. 
The process is simple and you can do it from your home. The first thing you have to do is open up a shop on Etsy. Next, you have to list your furniture in your shop and write some description of it. Then, setup a shipping procedure and payment method to start selling. 
If you want to know the step-by-step process in detail, we recommend sticking to the end. We will tell you everything required to get your furniture shop running on Etsy.
Well, if you are just starting out to sell your furniture online, it's only natural to wonder why you should sell on Etsy. Here, we will go through some of the benefits you can get from selling your furniture on Etsy. 
Advertisement costs are very low with Etsy. 

It's straightforward to get started and manage a shop on Etsy with powerful tools. 

You can sell quite a lot of furniture without too much struggle at all.

Etsy is pretty popular so getting customers shouldn't be an issue. 

Setting up the shipping methods is straightforward. 

Costs for selling furniture are considerably low.
What are the requirements to sell furniture on Etsy?
You need to fulfill some requirements before you can get started with selling furniture on Etsy. These are some basic documents and information that will verify you as a seller on Etsy. Let's check out the requirements to become a Seller. 
You need to belong to

eligible for Etsy payment

countries

Creating an Etsy account is also a necessity to sell on Etsy. 

Following the laws of small online business 

An active bank account to receive the payments

Having a credit card, debit card, or even a reloadable prepaid card is also necessary to get into Etsy payments.
How to sell furniture on Etsy?
Now, it's time to dive deep into the process of selling furniture on Etsy. Here, we will be discussing some easy steps that you can follow to get started with selling furniture on the platform. Let's get through it. 
Step-1: Opening an Etsy shop
The first thing you have to do to start selling on Etsy is to create an Etsy shop. Opening an Etsy shop is pretty easy, all you will need to do is visit the Etsy website, create an account, and then create your shop. 
In the shop creation section, you have to select the shop language, currency, and country you are from. Keep in mind that, you can only open a shop using a computer it's not possible from a phone. 
Step-2: Listing your furniture
Once you have opened a shop, you can immediately start the selling process. You can list the furniture you want to sell, which will show up in your shop as an available item. 
Listing furniture means including pictures of the furniture. You can simply click on the add listing button from your shop window. There you will be including the pictures and create a product listing. 
Step-3: Writing the proper furniture description
Even though writing a description is a part of the listing, you should prioritize it the most. Writing a good quality product description is the key to reaching more customers and convincing them of the furniture's quality.
Step-4: Set up the shipping method
You can't start selling furniture just after listing them in your shop. Setting up a shipping system is also very important. You have to decide the method of shipping your furniture to your customers. There is an option from Etsy to handle all the shipping processes. 
However, it's better to opt for third-party services like UPS, FedEx, and so forth. With such shipping services, you can be much more flexible with the shipping process and customers will have an easier time getting delivery. 
Step-5: Set up your payment method
Finally, you have to set up a payment method to get started with selling from your Etsy furniture shop. Setting up the payment method basically means including the bank information where you will be receiving the payment. 
Along with that, you can also try out Etsy payments. Enrolling in Etsy payments allows you to have multiple ways to collect the payment. It also makes things convenient for your customers as well. So, decide on the payment method and then you can start selling. 
Costs related to selling furniture on Etsy
Straight up, it's not free to sell furniture on your Etsy shop. There are various fees associated with the process. It's still quite affordable than the conventional methods of selling furniture. Here's a list of the different fees you need to pay on Etsy.
| | |
| --- | --- |
| Fees  | Amount  |
| Listing Fees  | $0.20 USD per listing  |
| Auto-renewal fees  | $0.20 USD |
| Transaction Fees  | 6.5% |
| Payment processing fees (USA) | 3% of total sale + 0.25 USD  |
| Shipping fees  | Based on service  |
Challenges to overcome while selling on Etsy
When you are trying to sell furniture on Etsy, you will come across some challenges. Overcoming these challenges will help you grow on the platform and earn good profit from it. Let's check out the different challenges that you have to tackle.
Bringing attention to your furniture
A lot of people face the challenge of not being able to reach more people. Since there are so many items on the platform and so many people are selling on it, finding your furniture can get difficult at times. 
To overcome this challenge, you have to learn about search optimization on Etsy. Optimizing your furniture listing should bring them up on the search list to make them more visible to customers.
Getting the trust of your customer
Gaining the trust of your potential customer is another challenge you have to overcome. People need to trust your furniture and your shop otherwise, you won't make any sales. Or at least, you can't expect to grow your furniture sales. 
One of the best ways to gain the trust of your customer is to provide a proper product description. Also, always try to make sure you are using quality images and good-quality products. Having some good reviews on your shop also helps out a lot in gaining the trust of new customers.
Building a shop Recognition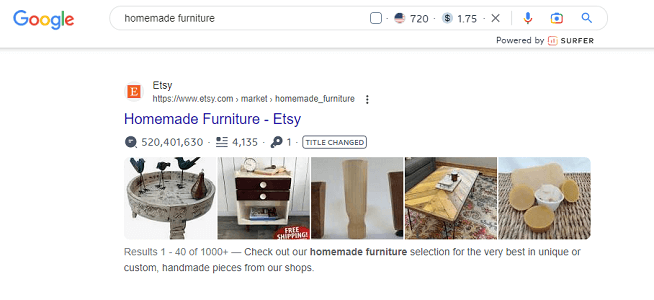 Another big challenge that you have to get through to make it a success is building a good name for your shop. Being able to do that helps you reach more people and brings you up on the search list as well. 
Overcoming this challenge is all about patience and perseverance. You have to slowly build up to the name with quality products and services. To speed things up you can try using an easier method for shipping and payment to encourage customers.
Well, we tried to provide every bit of information you need to get started with Etsy furniture sales. Still, we feel like you may have some questions lingering in your mind. Here we answer some of those common questions that people ask regarding this matter.
Frequently Asked Questions
After all this discussion, you now have a clear knowledge of how to sell furniture on Etsy. As you can see it doesn't require much effort or money to start selling furniture on Etsy.
One expert tip we can leave you with is to prioritize writing quality product descriptions. It can help you out a lot to increase the reliability and conversion of sales for your furniture. 
Other than that, you just have to wait till you grow your shop recognition on the platform. Since there aren't many costs you should be good in terms of profit.

I am Katja Miyatovich, a 3D artist with almost 5 years of experience in the industry. Currently, I live in New York, USA, and work in a full-scale 3D studio. In addition, I own a separate team working on several different creative projects. Plus, sharing in-depth knowledge about 3D is one of my passions.