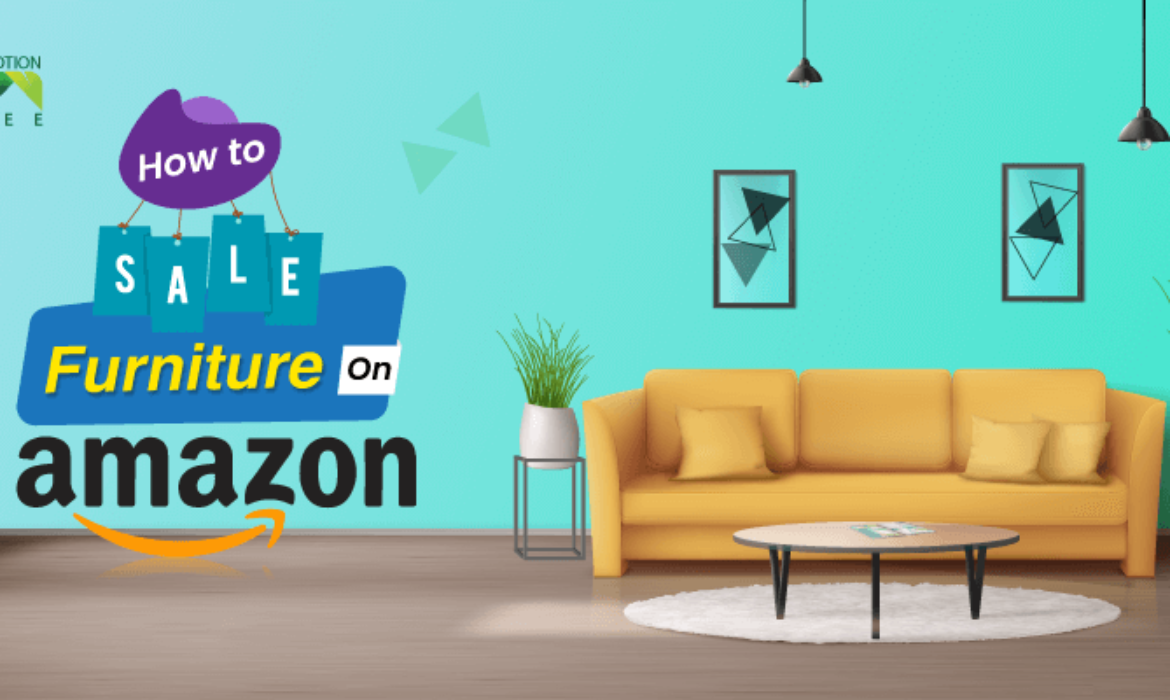 Starting up a furniture business isn't as expensive as it used to be, thanks to Amazon. You can sell your furniture with the help of Amazon as a selling platform without too much cost and effort. So, if you are wondering how to sell furniture on Amazon, we have the answers for you. 
It's a very straightforward process. First, you have to register as an authorized seller on Amazon with the necessary documents. Then, you can start listing the furniture you want to sell on the website. 
While you get a basic idea of the process, we recommend getting through the details. From the details, you will get a step-by-step guide and a lot of other information you need to know before becoming a furniture seller on Amazon.
There are various ways you can sell out your furniture. So, why sell furniture on Amazon over other sources? Well, there are several benefits of selling your furniture on Amazon. Let's go through them quickly.
You don't have to spend a lot of money on advertising. 

It's much easier to get customers through Amazon. 

Secured payment methods ensured from the platform.

Features various shipping options for better convenience. 

Provides better customer engagement

Easy packaging and store management benefits
Qualifications Required to Sell Furniture on Amazon
When it's about becoming a seller on Amazon, you will need to fulfill some requirements. It's not that difficult to do that. Keep in mind the qualifications will vary based on region. Here we talk about basic requirements that are suitable for all countries. 
A business email address or even an Amazon customer account works. 

You need a credit card that is internationally chargeable. 

Government ID card for seller identification and verification.

Tax information (personal or business)

An active phone number 

To receive the payments you need a working bank account 

Lastly, you need to be a resident of the

listed countries on Amazon

. 
How To Sell Furniture on Amazon?
Without wandering too much, let's get through the process of how you can start selling your furniture on Amazon. These are some easy steps to follow along and almost anyone can do them. Here's what you do –
Step-1: Registering as a seller
Before you can do anything or sell anything on Amazon, you have to become a seller on the platform. There are two types of seller accounts you can try out. You can either become a seller as an individual or open a professional seller account. 
To create a seller account, you will need an email address. If you are opening a professional account, you need a business email address. For an individual account, you can use your Amazon customer account for that. 
Along with that, you will need some documents like a Government ID card, valid phone number, bank account, and tax information. Also, you need to have a credit card that has an international chargeable option. 
Check out the video below to get through the whole process of creating a seller account.
Step-2: Listing up the furniture
In the next step, you have to list the furniture that you want to sell. Listing an item of furniture includes providing information about it, and adding images, designs, and specifications of the furniture. 
For listing the furniture, you need to get a UPC code. It's a unique code given to any product uploaded on the Amazon platform. The code differentiates the furniture from all the other furniture out there. Getting a UPC code requires enrollment in the Amazon Brand Registry program. 
If you don't get a UPC code, you can get a GTIN exemption to ensure that you can list up your furniture. Getting an exemption allows you to list products from your account without any GTIN or UPC information.  
Step-3: Deciding a delivery system
Next up, you have to plan out the delivery system for your furniture. Starting from the shipping method to delivering the furniture to the customer. You can try out third-party shipping companies. Or you can simply rely on Amazon. 
You can apply for the Fulfillment by Amazon or FBA program for ease of delivery and inventory management. If you apply for the program, you can easily rely on them to deliver your furniture. 
Step-4: Setting up a payment method
Lastly, you have to set up a payment method on your seller account to receive the payment. If you are from the USA, then you will need to have a bank account based in the USA. Also, your account must use the automated clearing house option for receiving Amazon pay disbursements. 
Related Article: How to sell furniture on Etsy
Costs Related to Selling Furniture on Amazon
One thing you should know is that when you opt to sell furniture on Amazon it's undoubtedly not free. There are several fees that you have to pay to make it as a furniture seller. Let's check out the table of costs you must bear for selling furniture on Amazon.
| | |
| --- | --- |
| Fee description | Amount |
| Listing fee | $1 – $3 |
| Referral fee | 5% to 20% |
| Shipping costs | Depends on the service |
| Seller account fee | $40 |
Challenges To Overcome When Selling Furniture on Amazon
While the whole process of selling furniture on Amazon is quite simple, there are some challenges you have to overcome. Below we list out the challenges and also try to give you an idea of how you can overcome them.
Increasing the visibility of your furniture
Sometimes, it can be quite difficult to make your furniture visible to the targeted audience. There are so many products and so many people list their furniture, it can be difficult to make your furniture visible among all the other options.
However, Amazon SEO is a great way to make your furniture more visible to customers. 
You can optimize the product listing of your furniture and make it rank higher on the search results. Optimizing also helps in bringing the product into suggestions.   
Gaining the trust of the customers
Another issue you may come across with selling furniture on Amazon is the customers not trusting your product. It's difficult to trust furniture just by the picture or product description. Without gaining their trust you can't build up sales.
There is a way to gain the trust of your possible customers by providing video footage of the furniture's condition. 
And if you are selling brand new furniture, then you can use 3D modeling to show them the design and quality to gain the trust of customers.
Ensuring a proper delivery system
When you list your products on Amazon, you have to remember that delivering the products is your responsibility. 
Now, that can be a bit of a challenge for some people out there. Finding a suitable and affordable shipping service with good management can be difficult.
To overcome this, you have to make sure the shipping service you are choosing is a good quality one. 
A company that maintains proper stocking of your furniture and delivers the furniture without any damage is almost a necessity.
Problems with returns and refunds
It's difficult to deal with returns and refunds when it comes to selling furniture. Since they are heavy products, the shipping cost can get pretty high. 
Also, without a proper return or refund policy, customers don't get any reliability on the products.
A good way to overcome this issue is to provide a good refund or return policy where customers can reap the benefits. And you don't have to bear the loss too much either.
Some Tips to Boost Furniture Sell on Amazon
Starting as a seller on Amazon isn't that difficult, but growing the sales is undoubtedly something you will struggle with in the beginning. Here are some tips from our end that may help you boost your furniture sales on Amazon.
Try using promo codes or other discounts to increase brand loyalty and boost sales.

Provide high-quality product recommendations to the customers

Feature to sample products with a 3D show

Look for gaining more product reviews

Using a visual search feature works great for selling furniture
We tried to cover everything that helps you get started with selling furniture on Amazon. Still, if you have some questions, then you might want to check out some of the common questions we have answered below.
Frequently Asked Questions
Now that you know how to sell furniture on amazon, you can get started with it right away. If you have the required documents and want to sell your furniture, then Amazon can be a great option.
Before we part ways, in our opinion, choosing Amazon for selling your furniture can be worthwhile. Because you can get a lot of customer engagement if you follow the steps properly and do some optimization.
But that's not the only option for you. There are several other websites out there, however, they might not be that good of an option considering the popularity of Amazon.

I am Katja Miyatovich, a 3D artist with almost 5 years of experience in the industry. Currently, I live in New York, USA, and work in a full-scale 3D studio. In addition, I own a separate team working on several different creative projects. Plus, sharing in-depth knowledge about 3D is one of my passions.