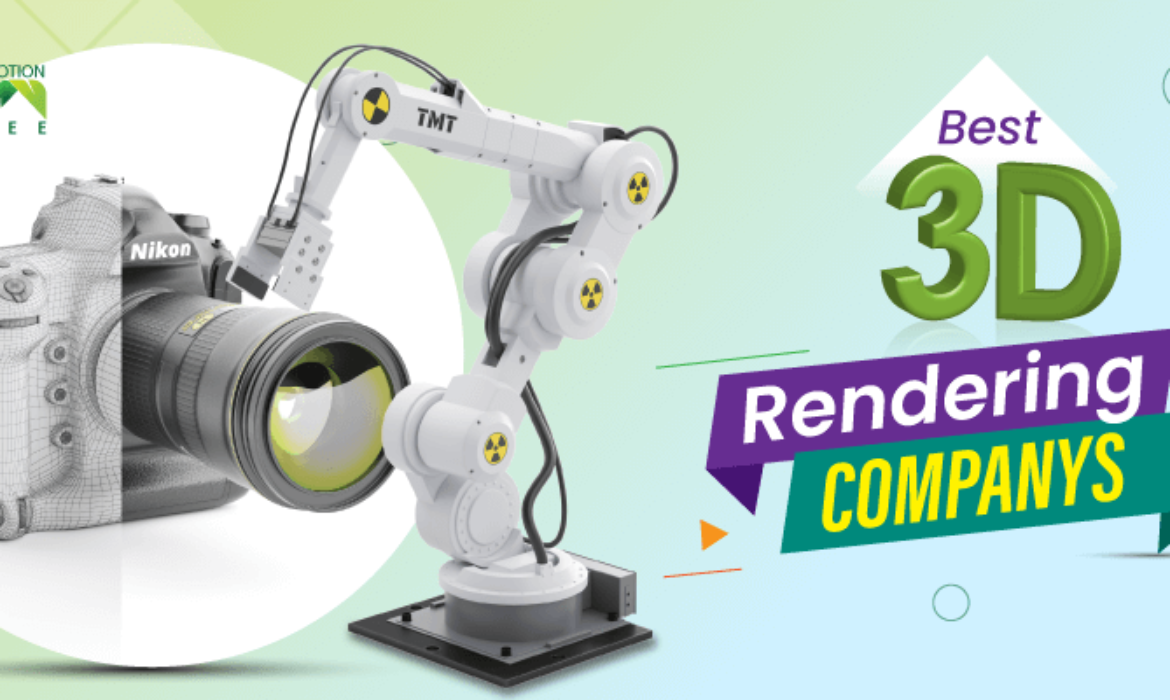 Whether e-commerce, real estate, or even education, 3D modeling is slowly becoming a prominent part of everything. However, learning and mastering 3D modeling can be time-consuming and difficult.
So, to keep up with the competition, you must rely on the best 3D rendering companies. These services provide you with 3D modeling facilities at a reasonable price and help you save up time as well.
Let's go ahead and check out some of the best services you can find out there.
Getting a 3D rendering service is almost becoming necessary in the modern world. 
An effective marketing tool
It has become a crucial marketing tool for introducing or showcasing products online. Even though the wave started with architecture and real-estate, it has now spread to almost all kinds of businesses.
Create realistic product models
A 3D rendering service can provide realistic product models that attract customers and increase their engagement with your business. It's an excellent tool for visual communication with customers.
Capture more details 
With 3D models of products, it's possible to capture product details flawlessly. Because of this, customers tend to rely more on 3D models than traditional product photographs.
A tool for competitive growth 
Based on a study from Global Market Insights, 3D rendering services will grow by about 20% or more every year until 2026. So, the sooner you include 3D rendering services in your business, the better your chances of being competitive.
Saves time and effort 
You can save up a lot of time and effort in learning 3D rendering if you simply choose to go with a service. Service gives you a professional result that can be effective in your business.
Top 8 companies to check out for 3D rendering services
Now, let's get on with the top 8 companies that provide high-quality 3D rendering services. You can rely on these services for various kinds of 3D rendering requirements.
No 1: The Motion Tree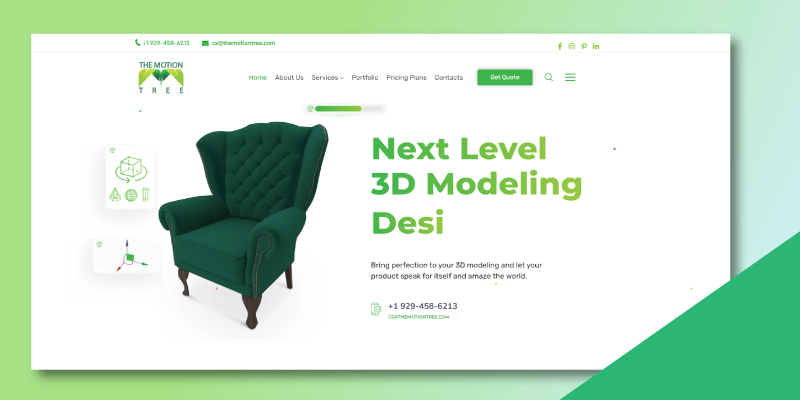 When it comes to 3D rendering services for products and e-commerce businesses, the Motion tree always comes on top. They provide plenty of 3D services that cater to getting your products the engagement they deserve.
Their services include 3D product design, modeling, rendering, 3D texturing services, CGI photography, and 3D car modeling. Along with that, they also have 3D animation services to create exciting product showcasing. And you can get some architectural rendering services from them as well.
Something that highlights the Motion tree is its pricing plan. They have a very reasonable pricing plan for all of their services. You can hardly expect much lower prices for 3D services. Their lowest-priced service starts from $10, and the most expensive is $99.
You should choose the Motion tree over other services because of its creative design approach. Along with that, their guarantee for success and photo-realistic rendering makes them worthy of being a top 3D rendering company.
If that's not enough, then you can dive into the details of their service. Their outstanding, dedicated team members are always there to provide excellent quality. Also, they have a first working process to help out the startup businesses with a solid plan and framework.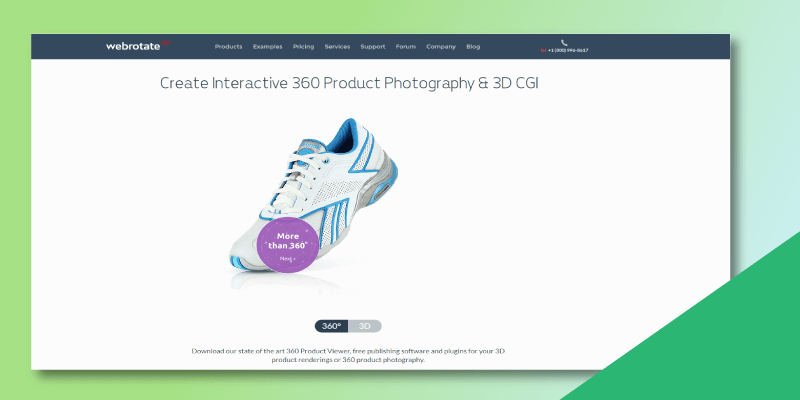 Unlike the Motion tree, Webrotate 360 is a 3D rendering service that focuses only on product rendering. They provide services for product and e-commerce businesses where you only plan to work with physical products.
What makes Webrotate 360 unique is that they provide designs and 3D renders and help your website with integrated software. They have several plugins and product APIs that they can integrate into your website to build a custom implementation. It adds a feature of 360 product view on your website.
Aside from the software or plugin integration, you have the typical 3D product modeling and rendering option. They have a highly skilled team of designers who can develop great 3D modeling for various products.
The photo-realistic designs are sure to attract customers to your business. Their image consistency and design creation from tricky angles prove their capabilities. You also get configuration options with their services, giving you room for personalization for the products.
A great thing about the Webrotate 360 is its free trial feature. You won't have to rely on anyone else's words. Just take the free trial of the service and see whether the results satisfy your needs. You can judge the quality yourself without having to spend any money whatsoever.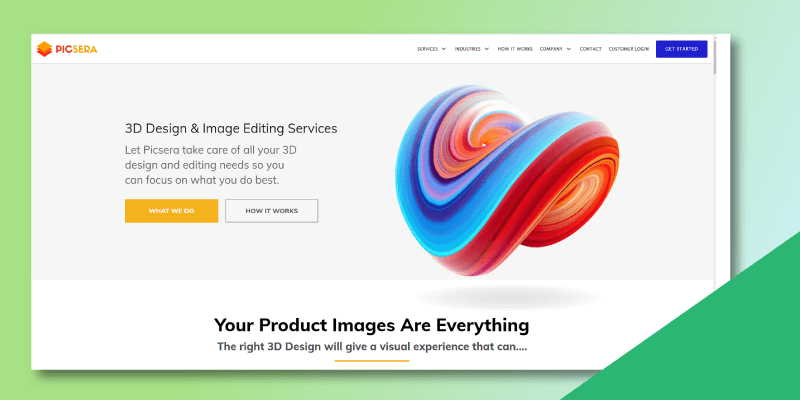 Here is another 3D rendering service that provides services for various kinds of projects. You can find 3D services for e-commerce businesses, architectural firms, educational institutes, interior design, etc. They will create high-quality 3D models based on your preferred projects.
One thing that differentiates PICSERA from other services is its highly interactive website. You can check out their 3D rendering service from their website features. The 3D desk viewer gives you a preview of what you can expect from virtual staging-related services.
Aside from the 3D rendering services, PICSERA also provides services for photo editing. If you want to keep things traditional with online product photography, you can choose them. Also, you can get a bit of both with this service.
Their services cater to a variety of industries. You can get services from Amazon and other marketplaces or choose them for Architecture and interior design. They also have portrait, real estate, and even wedding photography services.
What makes them appealing is the value they provide through their services. A team of talented visual creators ensures quality services with perfection. And you get to have that at affordable prices. They are reliable and responsive with their services at all times.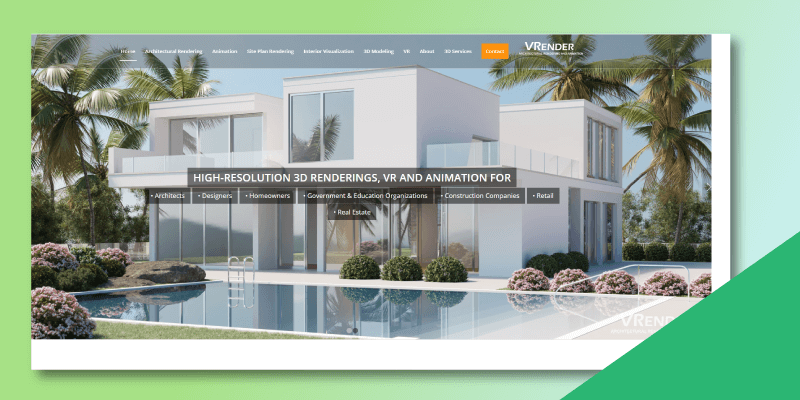 When it comes to finding the perfect Architectural rendering companies, VRender is undoubtedly a top contender for that list. It's a renowned 3D render service that works with architectural 3D models and focuses only on that aspect of the 3D modeling world.
Reliability is one of the strongest suits for VRender. They have more than 22 years of experience in the field of architectural 3D rendering services. With this level of expertise, they can provide quick results that maintain a high level of quality in their services.
You can get a lot of different architectural 3D services from the company. They usually specialize in virtual reality solutions, 3D modeling, 360 panoramas, architectural visualization, site plan rendering, etc. Also, real-time interactive rendering services give a realistic 3D model experience.
There are plenty of reasons for choosing VRender as your 3D rendering service. First, they go through a step-by-step process to make quick adjustments. They provide complete architectural solutions and competitive prices as well. Their flexibility and efficient communication are also commendable.
Altogether, the professionalism of the VRender company makes it a top choice. If you want architectural rendering services, then this is the company you should go for. You will surely get satisfying results with their expert editors and designers.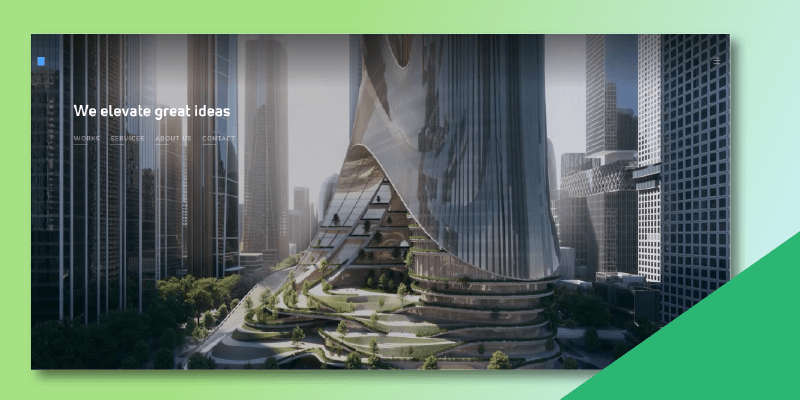 Brick Visual 3D rendering company is a company that provides you with some high-end architectural visual services. You can rely on them for top-notch premium quality 3D models usable for high-traffic websites. Quality and visuals are the top priority for Brick Visual.
The feature or value that makes Brick Visual unique is the fact that they offer more than mere services. Their software solution lets you work on 3D visualization with a user-friendly workspace. And you get a learning platform with Archviz skills development where they teach you 3D modeling. 
While they focus on architectural 3D modeling, they also have complete 3D production services. It means you can get complete 3D cinematic scenarios made by the service. The feature works out great when you are trying to make a product or real-estate demo in a cinematic way.
Their expert team of designers brings out their creativity into their 3D models. You can see the realistic approach these designers take in their 3D modeling to give the projects a premium high-end vibe. They will never disappoint you in terms of amazing visuals.
One of the best things about the service is its website. Right from the moment you visit their website, you will get a clear idea of their capability. It's very easy to navigate through their website to find exactly what you are looking for here.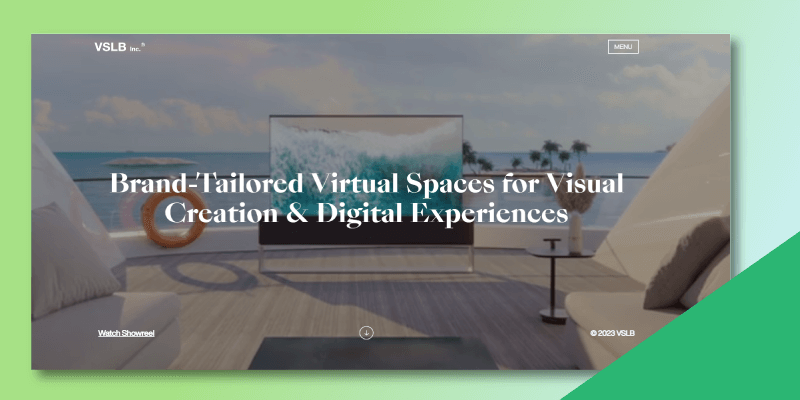 Similar to Brick Visual, VSLB uses premium 3D models for products. But instead of architectural designs, they do it for products and add a premium and high-end touch to them. This is it if you want to take your product marketing to another level.
What makes them so unique is that they treat the whole 3D modeling from an art perspective. They prioritize creativity in their work over everything else. Their product models usually have a scene or theme involving the product you are choosing to render.
You can rely on the service for your 3D product rendering purposes because of the expertise. They are not only experts at making artistic designs, but their experience in leadership, marketing, and consumer behavior provides you with a lot of value.
Another source of reliability for the company comes from its portfolio and previous clients. They have worked with brands like LG, Ralph and Russo, DACOR, Pivo, etc. With this kind of experience and portfolio, you won't have to question the quality whatsoever.
With their services, you can get some fantastic 3D technology. You can get videos or scenarios with good artistic touch and architectural brilliance. They provide images, animations, and VR and AR tours as well. Marketing of products reaches different heights with their service for sure.
No 7: DESIGN STUDIO DANDIFY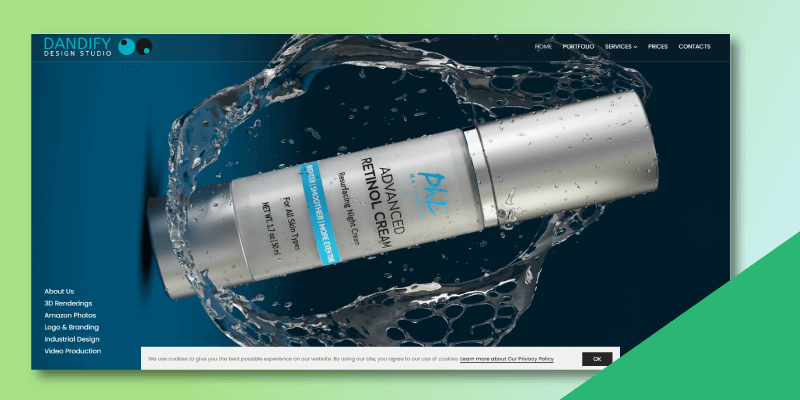 Here's the thing, going for a premium service may not be for everyone. That's where Design Studio Dandify fulfills your 3D product rendering needs. They come up with some high-quality 3D product rendering services for e-commerce businesses.
They have plenty of services to offer in the realm of e-commerce businesses. You can get 3D renderings, Amazon product photos, industrial design, logo design, and branding. Also, you can opt for video production services from the same company.
In their services, they involve various processes throughout the whole journey. Starting from product sketches, CAD design, 3D rendering services, package design, and logo design. So, they can be your all-in-one solution for your ecommerce visual marketing purposes.
Coming to the quality of their work, you get to see some hyper-realistic renderings of 3D products. They can provide you with 3D images or 3D videos based on your preference. You also get the option to ask for 360-degree interactive 3D images of product designs.
Last but not least, it's a value-for-money service. The quality they can put out is available at a pretty reasonable price in comparison. Especially if you are in a settled e-commerce business, taking their services won't feel expensive, and it can be the next level of your business.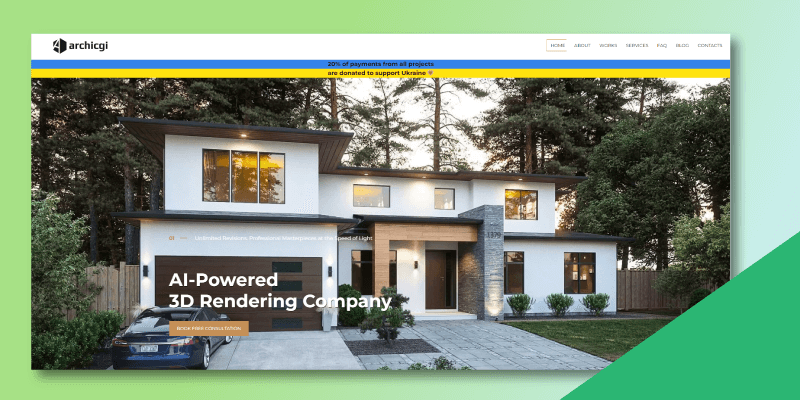 If you are in need of some quick architectural 3D rendered models, then ARCHI CGI can be your savior there. They provide 3D renders for interior design, exterior design, and complete architectural models. You can even get design drafts made by the service company.
The 4 step process for approaching their 3D rendering service is easy to follow. First, you send them a complete brief with the required materials. Next, they will send you a draft and wait for your approval. Once approved, they will begin working, and you must stay in touch. Lastly, get the results of your dream.
What makes them wanted by many people is the fact that they can save up a lot of your time. They provide their services with a guarantee of delivering them in the shortest possible time. You can get an estimation for your project within an hour, which is lightning fast.
They have plenty of quality work to convince you of their service. First of all, their commitment to providing work on time is commendable. Other than that, their responsibility and involvement in the projects are impressive. Also, they are open to ideas and experiences.
Finally, the prices they provide for their services aren't that high either. They are pretty reasonable for any real-estate or architectural-based business out there. So, if you are looking for quality architectural 3D models at fair pricing, this is the service to check out.
How to choose the best 3D rendering company for your project?
Let's check out some factors you should always consider when choosing a 3D rendering company for your business. These factors always help you wind up with the best possible option for your projects in particular.
See their portfolio
First, you must look at the portfolio of the service you are considering for your project. See if their portfolio has some work similar to your needs. It also helps you see whether the quality is up to the mark.
Examine their technical expertise.
While looking at the portfolio, you have to examine if the designs have that expertise in them or not. 3D modeling takes skill and experience to make it look good. Make sure to go with a service that can portray their skills in their work through their portfolio.
Checking out the testimonials
Testimonials or user reviews are a great way to determine whether the service is good. It should give you an idea of the experience of using the service company. You can get the reliability factor from judging the testimonials.
Cost-effectiveness
Of course, 3D modeling doesn't come cheap. However, it doesn't have to be stupidly expensive either. There are plenty of services out there that can provide reasonable prices. Look for services that can provide you with good value.
Who should consider 3D rendering services for their business?
There are plenty of businesses that pretty much rely on 3D rendering nowadays. First of all, if you are a 3D designer, you don't need a service. You can do all of it yourself. But if you don't have any knowledge, then check out the services for the following businesses –
The real estate business is almost impossible without 3D rendering these days.

E-commerce businesses reach new levels with 3D product models.

Interior designers or architects can get great value from these services.

Designers for various equipment and items can use 3D model services.

Manufacturers of products can use 3D-rendered models for marketing purposes.

Developers can showcase their projects using 3D models quite well.
Anyone working in these fields can get used to a 3D rendering service. You can get great value, especially as a manufacturer, e-commerce business owner, and real-estate business owner.

I am Katja Miyatovich, a 3D artist with almost 5 years of experience in the industry. Currently, I live in New York, USA, and work in a full-scale 3D studio. In addition, I own a separate team working on several different creative projects. Plus, sharing in-depth knowledge about 3D is one of my passions.